Are you thriving or surviving?
Author: Linda Sinden Date Posted:11 March 2021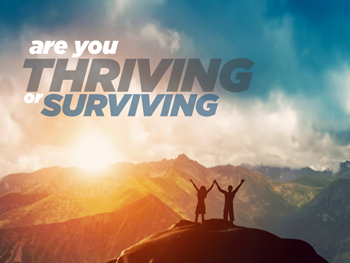 You may have heard about surviving or thriving in podcasts, magazines or even from a healthcare provider.
I'd like to draw your attention to an overlooked secret of Ayurveda…
When your body has more old cells than new ones you will inevitably find yourself unable to function at your best. The microcirculatory channels (shrotas) that deliver nutrients to the cells in your mind and body become blocked, depriving your cells of energy and vitality and slowing down cell regeneration. What does that mean for you?
Basically when your body has more old cells than new ones, fatigue arises and when it is sustained then low mood and even depression can result. Recent research on your stomach biome shows the build up of impurities in the cells and intestines that block cell nutrition have far reaching health effects. That's why at this time I'd like to introduce you to three key formulas to take to 're-set' yourself both now, at this time of the year when it is recommended for everyone and whenever you feel the need.
Blissful Joy - take 1-2 tablets after meals morning and evening
Elim Tox - take 1-2 tablets before morning and evening meals
Digest Tone - take 1-2 tablets 1 hour before bed
About Blissful Joy
Take 1-2 tablets 30 minutes after breakfast and evening meals
Blissful Joy 3 key herbs provide excellent nutritional support and balance three key areas called Tarpaka Kapha, Prana Vata and Sadhaka Pitta.
Arjuna Myrobalans a key ingredient in Blissful Joy is traditionally used to help strengthen the heart and emotions.
Ashwagandha and Holy Basil assist the body's natural resistance to stressful situations and improve emotional stability.
Finally, Ailanthus Excelsa and Arjuna Myrobalans help strengthen the body's natural rejuvenative mechanisms, hastening the replacement of dead or weak cells with fresh, vital ones. Tarpaka Kapha governs fluid balance in the brain, healthy brain tissue, and communication between brain cells. When in balance, it contributes to a stable personality.
Prana Vata-which governs energy, creativity, perception, growth of consciousness and self-realization-is also nourished.
Sadhaka Pitta, which is responsible for balanced emotions, self-confidence, healthy desires, motivation and a feeling of fulfillment, is also nourished.

Getting to the root of it
It is both helpful and essential to support the health of your cells as the seasons change. As we are moving into Autumn, consider taking Elim Tox 1-2 tablets before breakfast and evening meals for the next 2-3 weeks to revive your cellular energy! Plus take Digest Tone to give your entire digestive tract a tone up. You will feel the difference!
May you feel bliss and joy as you navigate this week and the coming Autumn season. Shop now to get a head start for a great winter.
Linda and the Get Balance Team

Linda Sinden has been a practising Maharishi Ayurveda Consultant since 1990 and is a regular contributor to our weekly Insights. She has a practice in Auckland, New Zealand and also provides phone or Skype sessions for those who need assistance, but don't have a consultant in their vicinity.

Email: lindasinden@orbislife.co.nz Skype: Linda.Sinden
Mobile: +64 212237525
---
Leave a comment
The Herbs in Maharishi Ayurveda Products Are Prepared in the Traditional Ayurvedic Way. 100% Natural and Side-Effect Free. Made to Naturally Restore Balance in Your Body. Buy Now!