Autumn Recipe and Tips
Author: Linda Sinden Date Posted:19 March 2018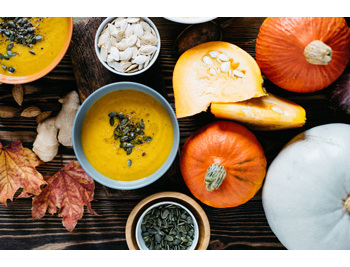 Now the weather is changing as the cooler breeze of autumn are being felt, here is a tasty recipe with Autumn tips to help you enjoy a healthy transition into Autumn.

Curried Squash Soup
Here is a tasty and warm soup with a little zing. It is great for a light evening meal during the seasonal change from Summer to Autumn.
1 large butternut squash
2 ¼ cups or water
½ tsp of rock salt
1 tablespoon of Ghee (clarified butter) or olive oil
½ tsp of ground cumin
½ tsp of ground cinnamon
¼ tsp of ground cardamon
¾ tsp of ground ginger
1 cup orange juice or apple juice
Garnish with coriander or parsley
Preheat the oven to 200c. Cut the squash lengthwise and place face down on an oiled tray. Bake in the oven for 40 minutes or until it is soft. Once cool scoop out the flesh and puree it in a food processer or blender with water and salt. Next place the mixture with the fruit juice into a pot and gently warm.
In a second pot saute the spices in the ghee until lightly browned. Then add to the mixture while it is heating.

Lastly serve into soup bowls and garnish with coriander or parsley. Then enjoy!
Autumn Tip
As the heat of summer cools and Autumn signals the rise of winter, it is important to go with nature's rhythms and consider doing a gentle cleanse. By eliminating the impurities that have gathered during summer, you are protecting your immunity and helping maintain strength for fighting winter bugs. So here's what to do:
For 1 to 3 weeks adopt the following herbal, dietary and lifestyle suggestions:
Prior Breakfast (30 minutes): Take 2 tablets of Elim Tox
Prior Lunch (30 minutes): Take 2 tablets of Liver Care
Prior Evening Meal (30 minutes): Take 2 tablets of Rejuvenation for Ladies or Rejuvenation for Men
Bedtime: Take 2 Digest Tone
Dietary Suggestions
Breakfast: Keep it light and warm. Freshly stewed apple or pear cooked each day with 1-2 cloves is a great choice.
Lunch: Make it the main meal of the day.
Dinner: Make it light. A soup like the one above is ideal.
Avoid cheese, yougurt, fried food, chocolate, pastries, cakes or red meat.


Lifestyle Suggestions
Get adequate sleep - 7.5 - 8 hours is best between the hours of 10pm and 6am.
Have a daily walk for 30 minutes. Pace it accoridng to your fitness level.
Reduce stress with daily practise of Transcendental Meditation.
Enjoy down time daily where you get to laugh and play. It's good for the soul and essential for the body and mind too!
Wishing you the bliss of balance.
Linda Sinden has been a practising Maharishi Ayurveda Consultant since 1990 and is a regular contributor to our weekly Insights. She has a practice in Auckland, New Zealand and also provides phone or Skype sessions for those who need assistance, but don't have a consultant in their vicinity.

Email: lindasinden@orbislife.co.nz Skype: Linda.Sinden
Mobile: +64 212237525
---
Leave a comment
The Herbs in Maharishi Ayurveda Products Are Prepared in the Traditional Ayurvedic Way. 100% Natural and Side-Effect Free. Made to Naturally Restore Balance in Your Body. Buy Now!