Eat Green This Spring
Author: Maharishi Ayurveda Date Posted:8 September 2015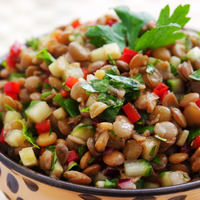 Great salad tips for spring
Are you feeling bored with your meals at the moment? If yes, or sometimes, then the seasonal change from winter to spring may be giving rise to a change in your taste buds. Because your body is part of nature as the season changes your body's desire for sustenance changes too. Food boredom or a sluggish digestion can also be an indicator that a gentle spring cleanse would be helpful. See how
Out go the warm hearty stews of winter and spring brings a desire for lighter warm meals with an increased appetite for raw foods and juices. With this in mind here are some spring eating tips to help you adjust to the seasonal change, while still enjoying tasty food!
Here is a warm and tasty lentil salad for you to try this week.
GREEN LENTIL SALAD

Preparation time 15-20 minutes + 45 minutes cooking time
Serves 4

Ingredients
375g dried whole green lentils, rinsed
2 bay leaves
2 heaped tsp of Kapha Churna – Spring Season Spice Mixture
¼ cup olive oil
Juice of ½ lemon
1 tsp ground cumin
½ cup coriander finely chopped
½ cup mint finely chopped
2 cloves garlic
optional: 1 red onion, finely chopped
Directions
1. Place lentils in saucepan with bay leaves and 2 heaped tsp of Kapha Churna and cover with water (approx 3 cups for every cup of lentils).
2. Bring to boil and simmer for about 45 minutes until tender. Skim if necessary.
3. Drain lentils discarding bay leaves and place in serving bowl.
4. Combine oil, lemon juice, onion, coriander, mint and garlic and whisk together.
5. Pour dressing over lentils and stir.

Serving Suggestion:
For extra flavour add feta cheese and grated beetroot.

SALAD TIPS
Dress to impress
Impress with lashings of healthy cold pressed extra virgin olive oil. Add a dash of citrus with lime, lemon or orange juice, or a splash of balsamic vinegar.
Create a meal
Turn a salad into a main meal by adding a hunger-buster protein source like lentils, beans, or non-vegetarians add chicken, salmon or tuna. Go organic if you can.
Be a little nutty
Along with being a good source of protein and fibre, nuts also contain healthy oils. So don't forget to top your salads with nut and seed mixes like toasted pine nuts or cashews, sunflower seeds, pumpkin seeds and sesame seeds. Lightly toasted they are flavorsome and hearty in one.
Chargrill
When you've got the BBQ cooking away why not also chargrill some capsicum and eggplant for a Mediterranean vegetable or couscous salad.
Tip
To help your body transition comfortably into spring consider taking Digest Tone prior meals 3 times a day with Herbal Digest 1-2 tablets after meals.

Or review the herbals suggested in our previous article for a deeper cleanse to prepare you for a great summer.
Wishing you the bliss of balance and a great spring this year!
Linda Sinden has been a practising Maharishi Ayurveda Consultant since 1990 and is a regular contributor to our weekly Insights. She has a practice in Auckland, New Zealand and also provides phone or Skype sessions for those who need assistance, but don't have a consultant in their vicinity. Email:

lindasinden@orbislife.co.nz

Skype:

Linda.Sinden


Mobile: +64 212237525


---
Leave a comment
The Herbs in Maharishi Ayurveda Products Are Prepared in the Traditional Ayurvedic Way. 100% Natural and Side-Effect Free. Made to Naturally Restore Balance in Your Body. Buy Now!