Flu-Cold Season Tips
Author: Linda Sinden Date Posted:25 June 2020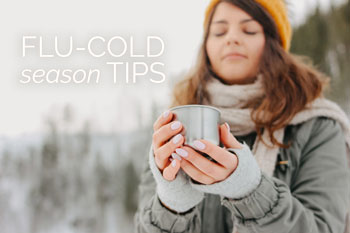 Now most of NZ and Australia are showing good signs of recovery from the Coronavirus pandemic; let's review the Flu-Cold Season tips to help you stay strong and recover quickly when needed from the seasonal colds and flu that are typical during Winter.
Winter has officially begun and the colder weather makes us all more susceptible to chills which can lead into coughs and colds. Pair some late nights with large heavy evening meals and the stage is set for impurities to accumulate in the stomach which Ayurveda explains is the basis of a respiratory imbalance. When digestion becomes overloaded and impurities accumulate viruses and bacteria can more easily take hold and multiply.
Diet and Digestion
Therefore along with the general recommendations to eat warm, nourishing food freshly prepared and to reduce or avoid canned, frozen or packaged foods, it is important to eat your largest quantity of food at midday when your digestion like the sun is at its highest point. Foods like eggs, cheese, meats, fish or seafood are better eaten when our digestion is strongest at lunchtime. Also as our digestive fire can fluctuate a little more than usual during winter it is helpful to support digestion.
Flu-Cold Season Tips
Here are some tips to consider during Winter.
Include warming and antiviral spices and herbs in your cooking each day; such as Turmeric, Ginger, Garlic, Cinnamon and Rosemary. An easy way to do this is to use 1 tsp per person of Vata Churna Organic or Kapha Churna Organic in your cooking at lunch and or dinner.

Note: Turmeric is best taken mixed and sauteed with a good quality oil like extra virgin olive oil or ghee as key constituents are fat-soluble which means it is typically "awakened" in hot oil.

Other foods with antiviral or helpful effects are garlic, leeks, onions, red grapes, blueberries, bilberries, cranberries and drinking red grape juice. Favour the seasonal vegetables and fruits as nature naturally makes available what we need in the foods of the season.
As digestion can fluctuate when Vata dosha dominates as it does during Winter consider supporting your digestion by taking Digest Tone 1-2 tablets 1 hour before bed. Digest Tone helps in absorbing nutrients effectively and in restoring your health, immunity and energy and is a gentle detox. It is considered a prophylactic that overtime protects health in many ways.
If you experience irregular or sluggish digestion also take Digest Plus 1 tablet 15-30 minutes after meals 2-3 times a day. Digest Plus helps to balance appetite, stomach acid, reduce gas and support liver and pancreatic function. It also detoxes ama or impurities from your body tissues. It is particularly helpful for those with Vata or Kapha nature or imbalance.
To support immune strength take 1-2 tablets of Nervous System Support 2 tablets or 1 tablet of Amrit Kalash Nectar and 1 tablet of Amrit Kalash Ambrosia 15-30 minutes before breakfast and evening meals. Both options recommended contain herbs that are traditionally used to nourish and strengthen the immune system and all tissue layers in the body.
To support respiratory health take Tulsi 1-2 tablets after meals and use Herbal Nasal Oil 1-2 drops up each nostril before leaving home in the morning and around 5 pm. Herbal Nasal Oil contains 27 herbs infused into sesame oil and goats milk to balance, purify and protect your nasal passages and sinuses, and help keep them clean and free of toxins. Clear nasals passages support clear thinking, resistance to infection and eye function.
What can I do if I get a sniffle, congestion, sore throat or flu?
The key is to start taking the right herbals, drinking the sniffle free tea and modifying your diet to a light and warm diet and getting more rest, as soon as you experience symptoms. Thus it is best to have the following herbals on hand or in your herb cabinet for easy access.
Wishing you the bliss of balance this Winter and always.
Linda Sinden and the Get Balance Team
Linda Sinden has been a practising Maharishi Ayurveda Consultant since 1990 and is a regular contributor to our weekly Insights. She has a practice in Auckland, New Zealand and also provides phone or Skype sessions for those who need assistance, but don't have a consultant in their vicinity.

Email: lindasinden@orbislife.co.nz Skype: Linda.Sinden
Mobile: +64 212237525
---
Leave a comment
The Herbs in Maharishi Ayurveda Products Are Prepared in the Traditional Ayurvedic Way. 100% Natural and Side-Effect Free. Made to Naturally Restore Balance in Your Body. Buy Now!