FREE YOURSELF - See how
Author: Linda Sinden Date Posted:20 May 2021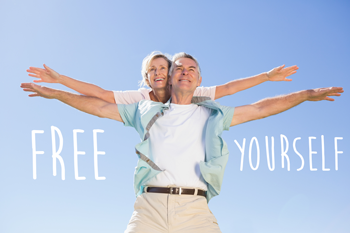 Take a moment to answer the following questions to see if your body needs you to free yourself from the detrimental effects of toxins or impurities that build up and clog channels within you.. It feels good to get rid of junk in your life and it feels even better to clear it from your body!
Consider each of the following questions...
You wake up tired even after a good night's sleep.
You feel lethargic
Your tongue is coated especially upon waking in the morning
You don't feel real hunger even when you haven't eaten for hours
You have generalized aches and pains. They often are noticed the day after eating certain heavy foods, like meat, cheeses, desserts and fried foods
You lack mental clarity and energy
You have a sense of heaviness in the abdomen, legs or body as a whole
You feel weary and unenthusiastic
You experience frequent indigestion like gas bloating and or heartburn
You feel blocked anywhere in the body, including constipation, sinus congestion and difficulty breathing.
If you answered yes to 2 or more then your body is asking to be freed from the weighing down impact of ama - impurities from incomplete digestion. Left overtime they become the source of discomfort and dis-ease.
Here's what to do…
Take Elim Tox 1-2 tablets 30 minutes before breakfast and evening meals
Take Genitrac 1-2 tablets 30 minutes before breakfast and evening meals
Take Digest Tone 1-3 tablets - 1 hour before bed
Favour warm, cooked and freshly prepared food and drinks and avoid cold, packaged, frozen food and drinks and leftovers
Take your largest quantity of food at lunch when digestion is strongest
Have a walk daily
Sip hot water that has been boiled for 10-20 minutes every 30 minutes through the day. (Optional add 1-3 slices of root ginger before boiling)
About Elim Tox
Take 1 tablet 20-30 minutes before breakfast and evening meals for 15 days and then increase to 2 tablets twice daily. Take for 1-3 months after the desired result has been achieved.
Elim Tox gently helps purify toxins from your whole body — down to the cells, helping you to feel healthy, clear and light. This blend of 18 ayurvedic herbs clears the microchannels of the body, allowing waste to be removed and vital nutrients to reach the cells.
Elim-Tox:
Detoxifies the colon and digestive tract.
Cleanses the liver, the sweat glands, the nutritive fluid, the blood, the fat tissue.
Supports healthy functioning of colon and intestines
Helps restore energy, clarity and feelings of happiness
About Genitrac
Take 2 tablets with Elim Tox 20-30 minutes before breakfast and evening meals. Take for 1-3 months after the desired result has been achieved. Genitrac helps to:
Clear away even long term toxins that sit in the urinary system so they are not reabsorbed back into your body. This is an important step when cleansing the body that is often overlooked.
Restore balance to the kidneys, urethra, ureters and bladder.
Balance digestion, preventing digestive toxins from building up
Nourishe the body's tissues, to improve resistance to infection
About Digest Tone
Take 1-3 tablets 1 hour before bed.
One of our most popular formulas, Digest Tone ...
Is a companion formula to support all other herbals
Gives a simple, gentle daily cleanse and is a digestive system tonic
Improves assimilation
Supports heart health, mental clarity, youthfulness, sharper intellect
Enhances eyes, hair and vocal cords
Promotes long life and vitality
Provides up to 30% more triphala per bottle than other organic brands

Suggest you start by taking the 3 herbs recommended. Just taking the herbs will make it easier for you to adopt the other recommendations one easy step at a time…
Wishing you the bliss of a light, energised and free body and mind.
Linda and the Get Balance Team
Linda Sinden has been a practising Maharishi Ayurveda Consultant since 1990 and is a regular contributor to our weekly Insights. She has a practice in Auckland, New Zealand and also provides phone or Skype sessions for those who need assistance, but don't have a consultant in their vicinity.

Email: lindasinden@orbislife.co.nz Skype: Linda.Sinden
Mobile: +64 212237525
---
Leave a comment
The Herbs in Maharishi Ayurveda Products Are Prepared in the Traditional Ayurvedic Way. 100% Natural and Side-Effect Free. Made to Naturally Restore Balance in Your Body. Buy Now!