Get in the Swing for Spring
Author: Maharishi Ayurveda Date Posted:25 August 2015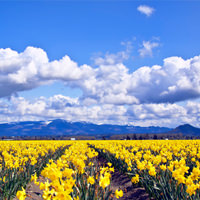 Eating for Springtime

It's that time of year when the residue of a heavier winter diet is released by the body into the blood stream for cleansing from your body, as part of a seasonal Spring cleanse. Give some thought to your liver, which plays a crucial role in detoxifying your body and also try our fresh bean salad this week. It's tasty and nutritious too.
FRESH BEAN SALAD
Preparation time: 15 minutes
Serves 4
Ingredients
500g broad beans (shelled)
100g sprouts
150g baby green beans, trimmed
150g snow peas, trimmed
½ cup mint leaves, chopped
½ cup flat leaf parsley, chopped
1-2 Tbsp olive oil
½ lemon, juiced
Salt & Pepper
Directions
1. Blanch broad beans, snow peas & beans in boiling water.
2. Plunge broad beans into cold water & peel.
3. Combine broad beans, snow peas and beans with sprouts & herbs into a large serving bowl.
4. Drizzle with olive oil and lemon juice & season with salt and pepper.
It's time to support your Liver
Your liver's job is to cleanse and filter the blood, promote the elimination of toxins and hormones and to facilitate digestion. The liver is the organ that governs fat metabolism by releasing lipids (fats) and associated toxins into the blood for elimination.
How to recognise an overloaded liver?
Here are signs to help you recognise when you need to adopt some 'love your liver tips' and some liver tonics to help in your spring cleaning
Cravings for sugar
Headaches
Fatigue
Dizziness
Nausea
Gallstones
Allergies
Poor memory
Dark circles under the eyes
Excessive weight gain and inability to lose weight
Coated tongue and bad breath
Elevated cholesterol levels
Intolerance to alcohol and fatty foods
Constipation / abdominal bloating / pot belly

Love your liver this spring
Take lemon juice in a glass of room temperature water on rising to kick-start the liver each morning.
Take Digest Tone 1-2 tablets prior your evening meal and Liver Care 1 tablet prior meals 3 times a day for 1 month.
Drink Rajas Cup after meals
Avoid all liver toxic substances including alcohol, drugs, additives, pesticides, insecticides, artificial sweeteners and colourings.
Increase fruit and vegetable consumption. Eating seasonal vegetables prevents the loss of important vitamins and enzymes, which are lost with aging on the shelves. The highest possible nutrient, vitamin and enzyme quality is attained when we eat fresh.

Spring Fruit Apple, banana, grapefruit, lychee, mango, melons (honeydew, rock melon, water melon), orange, papaya, pawpaw, pineapple, star fruit, strawberries and tangelo.

Spring Vegetables Watercress, asparagus, beans, chicory, radishes, rhubarb, red oak lettuce and iceberg lettuce.

Include good quality proteins in diet such as lentils, nuts and seeds and for non-vegetarians, organic chicken, lamb, fish and seafood.
Avoid deep fried foods and fatty foods.
Eat good fats that contain essential fatty acids such as olive oil, avocado, nuts and seeds, alfalfa seeds, flaxseed and for non vegetarians, salmon, tuna, sardines, herring and mackerel
Drink plenty of filtered water, herbal teas such as

Vata Tea

,

Pitta Tea

,

Kapha Tea

,

Be Trim Tea

, green tea and vegetable juices.
Fluid intake: aim for 2 litres a day for woman and 3 litres for men. Good fluid levels help to support the kidney, aid the liver and reduce constipation.
Have a great week and look out for our spring cleanse programme next week.
Wishing you the bliss of balance
Linda Sinden has been a practising Maharishi Ayurveda Consultant since 1990 and is a regular contributor to our weekly Insights. She has a practice in Auckland, New Zealand and also provides phone or Skype sessions for those who need assistance, but don't have a consultant in their vicinity. Email:

lindasinden@orbislife.co.nz

Skype:

Linda.Sinden


Mobile: +64 212237525


---
Leave a comment
The Herbs in Maharishi Ayurveda Products Are Prepared in the Traditional Ayurvedic Way. 100% Natural and Side-Effect Free. Made to Naturally Restore Balance in Your Body. Buy Now!