Granola Recipe & Spring Tip
Author: Linda Sinden Date Posted:15 October 2019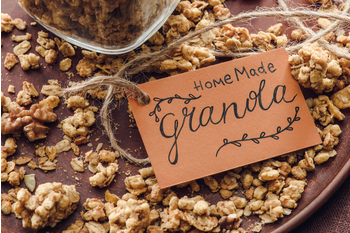 As the changeable weather of Spring signals winter is now gone and summer will come soon, are you noticing a desire to change your breakfast from winter fare of porridge to something a little lighter? If so we have a tasty Granola recipe for you to try.
During the ups and downs of Spring to Summer not only the weather is changeable. So to our digestive fire can be challenged as it helps to burn up the leftover of winter excess stored in our tissues while preparing for the rise of Summer.
Spring Tip
If you have noticed a change in your digestion then suggest you be particularly attentive to powering up your digestion now.
Take 2-4 Digestive Tone at bedtime. I'll tell you why after the yummy recipe.
To support digestion at lunch the Pitta time of the day take 2 tablets of Liver Care prior lunch.
To aid digestion at breakfast and your evening meal take 1-2 tablets of Digest Plus after eating. As they say, a stitch in time saves nine!
Recipe: Granola
Ingredients
Makes approx 10.5 cups
565g rolled oats
115g wheat germ
95g unsweetened flaked coconut
70g unsalted sunflower seeds
70g sesame seeds
140g chopped almonds
120mL vegetable oil
120mL maple syrup
120mL boiling water
35g brown sugar
Pinch of salt
½ t vanilla extract
2 tsp Cinnamon
2 tsp Turmeric
1 tsp Ginger powder
1 tsp Cardamom powder
Method
Preheat the oven to 165 degrees C. In a large bowl stir together dry ingredients of oats, wheat germ, coconut, sunflower seeds, sesame seeds, almonds and spices. In a separate bowl mix the oil, maple syrup, boiling water, brown sugar, salt and vanilla. Pour the liquid ingredients into dry ingredients and stir until evenly coated. Spread in a thin, even layer on a large baking sheet.
Bake for 60 to 90 minutes in the oven, stirring every 30 minutes until toasted and fragrant. Granola will crisp up when cooled.
For breakfast
Take ½- ⅔ cup of Granola with seasonal fruit that you enjoy. Cherries, kiwis, navel oranges, mango, strawberry are particularly tasty during Spring. As Summer arrives so to a wide range of berries and other fruits come into the menu. Enjoy!
If you wish to have some fluid with your granola consider adding ⅔ cup of almond milk, soy milk, or some water - sky juice as my sister told her children. You may prefer to take the fluids warm during Spring when the weather is still cool and changeable.
Why Digestive Tone is so important in Spring
If you have noticed an increased tendency for nasal drip, sinus congestion, or coughing now is the time of the year when Kapha dosha predominates. Kapha governs the physical structure and tissue formation and in particular the fluids of the body.
When impurities are released into the body's fluids as part of a natural 'Spring Cleanse' you may notice a little or a lot of congestion. This is often the result of accumulated impurities from partial or incomplete digestion during winter, or from some late-night meals and times of overeating. The body has its cycle of cleansing to release built-up impurities to keep us well. Thus at this time of the year, we recommend you take 2-4 tablets of Digest Tone at bedtime.
About Digest Tone
Triphala is a combination of three fruits called Amalaki (Emblica officials or Phyllanthus embolic or Indian Gooseberry), Haritaki (Terminalia chebula or Indian Gallnut) and Bibhitaki (Terminalia bellirica). In our formula, we also add Rose to further enhance their effectiveness.
The great Sage Charaka considered Haritaki to be as nourishing as mother's milk. He said it helps enhance the absorption of nutrients in food, is good for the digestive system and helps to cleanse the micro and macro circulatory system. He also considered Amalaki to be the best among rejuvenating herbs and Bibhitaki to be excellent for balancing and nurturing the vocal cords, an antibacterial and a Rasayana or tonic for the eyes.
A classical Ayurvedic text on surgery called Sushruta Samhita states that haritaki and Triphala are useful for cleansing wounds and supporting rejuvenation of the insides. It also says that Bibhitaki helps to purify the blood and to maintain healthy blood clotting.
Bibhitaki is also mentioned in the Bhavprakash Nigantu as being nourishing for the eyes and hair, helping to maintain the hair roots, colour and thickness.
Rose Cabbage or Provence Rose petals are renowned for their many health-giving properties. They help to balance Sadhaka Pitta, the sub dosha that governs the heart and emotions. They also enhance the coordination between the heart (Sadhaka) and the breath (Prana) which govern the brain, head, chest, respiration, senses and mind.
Each of these ingredients on their own provides potent rejuvenating and cleansing effects. Altogether they are a prized tonic or Rasayana that works from the deepest levels of our physiology to support the digestive tract and formation of all tissues - which in turn supports the healthy formation of our skin, eyes and hair.
So consider taking 2-4 tablets of Digest Tone at bedtime for the next 1-3 months. Your body will thank you!
Wishing you the bliss of balance.
Linda Sinden has been a practising Maharishi Ayurveda Consultant since 1990 and is a regular contributor to our weekly Insights. She has a practice in Auckland, New Zealand and also provides phone or Skype sessions for those who need assistance, but don't have a consultant in their vicinity.

Email: lindasinden@orbislife.co.nz Skype: Linda.Sinden
Mobile: +64 212237525
---
Leave a comment
The Herbs in Maharishi Ayurveda Products Are Prepared in the Traditional Ayurvedic Way. 100% Natural and Side-Effect Free. Made to Naturally Restore Balance in Your Body. Buy Now!