It's a matter of choice
Author: Maharishi Ayurveda Date Posted:17 July 2017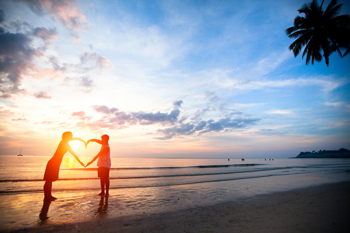 In every situation there is a moment of choice …
More poems, plays, books, songs, music and art have been created to celebrate love than any other subject known to mankind. Such is the power and importance of love in our lives. No matter what besets us, when we have someone to love and whom we know loves us in return, we can climb mountains.
Love withdrawn, through loss or betrayal, or love not returned, can leave us bereft. We can succumb to illness and depression and take a long time to recover. This week focus on consciously adopting friendliness, being generous and having compassion for your self and others at home and at work.
When the heart is bruised or broken, it too needs time to heal. Understanding friends, a wise perspective and a supportive comminity can make all the difference. In addition seeking the stillness within with the regular practice of Transcendental Meditation has helped a number of my clients find resilience, peace and ease once again.
Here are the herbal combinations I have found helpful for clients when the heart needs some loving attention:
If your response is to worry, feel fearful or anxious then take two tablets of Stress Relief before lunch and evening meals and two tablets of Stress Free Mind after lunch and evening meal. At bedtime take two Worry Free tablets.

If your response is to feel seriously irritated, angry or even rage, then take a moment, count to 10 and step back. Better to cool down before speaking or acting as it will be more effective in the long run. Take Emotional Balance two tablets along with a dessertspoon of Pitta Rasayana MA3332 prior lunch and evening meals. After meals one tablet of Aci Balance. Bedtime take Deep Rest two tablets.

If your response is to feel hurt but calm and you feel the need to withdraw to protect yourself - then take one tablet of Digest Tone prior main meals and one tablet of Blissful Joy after each main meal two times a day.
Three simple rules for the giving and receiving of true love
Show love by adopting these three simple qualities into your thoughts, speech and actions this week at home, in your social life and at work. Watch for the miracles of love that will come your way!
Friendliness
Develop the art of friendliness. It may be in a smile, a compliment, an expression of appreciation, a thank you! It may be to strangers or to the people closest to you. A gesture of friendliness will light up their day and put a shine on your day. Just be friendly. How easy is that?
Generosity
Is the expansion of the heart. We willingly lay ourselves open to the giving and receiving of love. We do not withhold our love but share it through acts of kindness and thoughtfulness. In return, acts of kindness and thoughtfulness are showered upon us. Generosity allows us to be unselfish in our love. It allows us to share and enables us to gracefully let go.
Compassion
Compassion heals the heart. We must embrace the concept of having compassion for ourselves as well as for others. Compassion allows us to forgive ourselves, so that we are strong enough to forgive others. It allows us to withhold judgment. We may not understand, but we can withstand. Compassion is at the very heart of true love.
Wishing you the bliss of balance this week.
Linda Sinden has been a practising Maharishi Ayurveda Consultant since 1990 and is a regular contributor to our weekly Insights. She has a practice in Auckland, New Zealand and also provides phone or Skype sessions for those who need assistance, but don't have a consultant in their vicinity.

Email: lindasinden@orbislife.co.nz Skype: Linda.Sinden
Mobile: +64 212237525
---
Leave a comment
The Herbs in Maharishi Ayurveda Products Are Prepared in the Traditional Ayurvedic Way. 100% Natural and Side-Effect Free. Made to Naturally Restore Balance in Your Body. Buy Now!