Ready to take on winter?
Author: Maharishi Ayurveda Date Posted:18 April 2016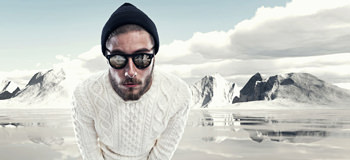 As winter settles in have you noticed an increase of dryness or a change in your digestion? Clients often come at this time of the year wanting help with a sluggish bowel or with reduced immunity causing colds and flus and a flare-up of auto-immune conditions, like polymyalgia, arthritis and lupus. This is due to an increase of Vata dosha, as the qualities of Vata (rough, dry, changeable, penetrating, quick and changeable) increase during the winter season.
Forewarned is forearmed
If you are strong in Vata by nature, have a long-standing Vata imbalance or are in your Vata stage of life (50+) then being pro-active at this time of the year is a good idea for you. Along with Vata balancing dietary and lifestyle choices it is also helpful to take Digest Tone daily.

Three Step Action Plan
Lifestyle Tips
Getting good sleep is the most important lifestyle need for Vata, along with staying warm, reducing stress and adopting a regular daily routine.
Herbal Help
As the warmth in nature decreases so to our digestive strength and patterns of elimination can become changeable making it necessary to take

Digest Tone

daily.
As a tonic and deep tissue cleanser Take 2 tablets first thing in the morning upon rising and 1-2 tablets prior your evening meals.
To support elimination Take 2-4 tablets at bedtime with a drink of warm water. Be sure to have cooked apple or pear with 6 prunes or ½ a cup of raisins first thing in the morning. Leave 30 minutes before eating a warm cereal if still hungry. Cook fresh each morning.
Digest Tone contains Amalaki, Bibhitaki and Haritaki, along with the balancing effects of Rose Cabbage. This three-fruit powerhouse provides high vitamin C antioxidant properties to boost the body's natural defenses during the cold season or when travelling.
Amalaki is a fruit that supports a healthy intestinal system.
Bibhitaki supports the natural balance of intestinal mucus.
Haritaki supports the natural strength and function of the intestinal muscles
Rose Cabbage provides a cooling and harmonizing influence allowing

Digest Tone

to be taken daily
Digest Tone is known to promote long life, enhance vitality, to help prevent disease, create lustre in the skin and rejuvenate the whole body. It is particularly rejuvenating for the digestive tract, urinary system, eyes and the skin. It is a natural bowel toner that supports regular elimination and helps to reduce the build up of toxins. Taken over time it also helps to cleanse impurities from the deep tissues in the body. So all in all, you can see that taking Digest Tone this winter is a good idea!

Dietary Tips
Your food is a powerful medicine
Favour organic foods and eat seasonal fruit and vegetables while avoiding artificial additives and ingredients.
Eat with full attention and when hungry.
Aim to be hungry at regular intervals so you are ready for breakfast, lunch and dinner meals.
Drink Vata Tea or warm drinks each day. Taking 1-2 sips every 30 minutes is the best way to remain hydrated to reduce the dryness of this season.
Wishing you the bliss of balance this winter season.
Linda Sinden has been a practising Maharishi Ayurveda Consultant since 1990 and is a regular contributor to our weekly Insights. She has a practice in Auckland, New Zealand and also provides phone or Skype sessions for those who need assistance, but don't have a consultant in their vicinity.

Email: lindasinden@orbislife.co.nz Skype: Linda.Sinden
Mobile: +64 212237525
---
Leave a comment
The Herbs in Maharishi Ayurveda Products Are Prepared in the Traditional Ayurvedic Way. 100% Natural and Side-Effect Free. Made to Naturally Restore Balance in Your Body. Buy Now!