RSV tips for speedy recovery
Author: Linda Sinden Date Posted:21 July 2021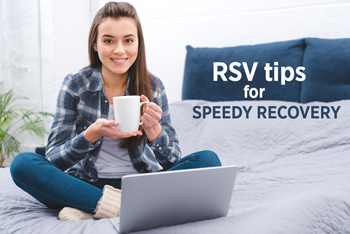 Children, the elderly or immunocompromised are being seriously affected by the Respiratory Syncytial Virus (RSV) with over 700 confirmed cases in the week ending July 7th throughout NZ. In the high risk, RSV can lead to severe respiratory illness and pneumonia which may become life-threatening.
With this in mind here is a two step programme to help protect or to help restore wellbeing for you and your loved ones now, when it is needed.
Step 1: Take the following herbals as recommended and enjoy a 10% savings now...

Clear Throat Syrup - Helps with cough, phlegm and lung support and is sweet and easy to the taste which is helpful with children.
Congest Assist - Supports healthy digestion and clearer airways. Can be taken at the first sign of a sniffle or cough, and to aid prevention.
Can be crushed and mixed with honey for children.
Chyawanprash - Supports the respiratory system, natural immunity and is a tonic for energy and vitality. A tasty jam like tonic that is easy for children to take.
Step 2: As upper respiratory infections often start with an imbalance in digestion that goes unnoticed it is helpful to
Favour the main food at lunch and light evening meal by 5pm.
Avoid leftovers, canned, frozen or processed foods.
Avoid eggs, meat, fish, seafood and cheese before 10 am and after 2 pm.
If mucus is present, avoid dairy products altogether.
Only take warm food and drinks and avoid anything cold. Use ginger and other warming spices in your cooking and drinks.
Sip ginger tea, Sniffle Free Tea or Kapha tea regularly through the day.
How much should I take?
!/4 - ½ tsp 5 years and under 2-4 times a day
½ - 1 tsp for 6-11 years of age 2-4 times a day
1-2 tsp for 12+ years and the elderly 2-4 times a day
¼ to ½ tablet mixed with honey for 5 years and under before breakfast, lunch and evening meals.
½ - 1 tablet mixed with honey for 6 - 11 years of age
1-2 tablets up to 4 times a day for 12+ years including the elderly
¼ to ½ tsp twice daily for 5 years and younger
½ - 1 tsp twice daily for 6 - 11 years of age
1-2 tsp twice daily for 12+ years of age including the elderly
Our thoughts are with you and your loved ones as you deal with the RSV and the bugs winter is bringing this year. May you all be well and if you fall ill may these recommendations support a speedy return to respiratory health.

Linda and the Get Balance Team
Linda Sinden has been a practising Maharishi Ayurveda Consultant since 1990 and is a regular contributor to our weekly Insights. She has a practice in Auckland, New Zealand and also provides phone or Skype sessions for those who need assistance, but don't have a consultant in their vicinity.

Email: lindasinden@orbislife.co.nz Skype: Linda.Sinden
Mobile: +64 212237525
---
Leave a comment
The Herbs in Maharishi Ayurveda Products Are Prepared in the Traditional Ayurvedic Way. 100% Natural and Side-Effect Free. Made to Naturally Restore Balance in Your Body. Buy Now!