Spring Eats & Treats
Author: Maharishi Ayurveda Date Posted:18 September 2017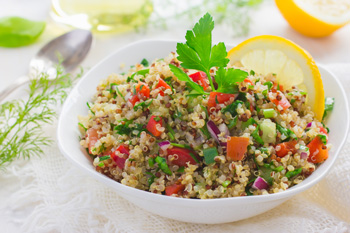 Spring Recipes
Enjoy a light and tasty Aztec Quinoa Platter as your body settles into spring and prepares for the coming of summer! This time of the year is also great to increase your intake of beans so we have included a bean and pumpkin casserole that is lovely to have for lunch or evening meal.
If you have a tendency for post nasal drip or mucous congestion at this time of year then digestive support is needed. Suggest you take 1 tablet of Digest Tone and 1 tablet of Protection Plus Sinuses prior breakfast and lunch with 2 tablets of Digest Tone and 1 tablet of Protection Plus Sinuses prior your evening meal.
Additionally sip Kapha Tea every 15-30 minutes through out the day. Kapha Tea contains spices that help to perk up your mind and body helping to reduce the dampness of Spring.
Quinoa Corn Salad
1 cup quinoa, well rinsed
1 cup corn kernels
Juice of 1 lemon
1 tablespoon olive oil
2 or 3 spring onions, cut finely or minced
Rock salt and cracked pepper to taste

Bean Salad
410 grams of pinto, pink, or kidney beans (cooked)
1 heaped cups diced tomatoes
4 tablespoon lime or lemon juice
1/4 cups chopped fresh parsley
1 tablespoon of Kapha Churna
Freshly ground black pepper, to taste
Garnish
1 1/3 tablespoons pumpkin seeds
20 grams chopped black olives
1 medium red capsicum, cut into strips
Method
Bring 2 cups of water to a boil in a heavy saucepan. Add quinoa and simmer gently, covered, for 15 minutes. When the quinoa is done, remove it from the heat, fluff it with a fork, and transfer it to a mixing bowl. Combine the quinoa with the remaining ingredients and toss well.
While the quinoa is cooking, combine all the ingredients for the bean salad in another bowl and toss together.
To assemble the Aztec Platter, transfer the quinoa-corn salad onto a large platter and spread evenly to within an inch or so of the edge. Pushing the salad outward from the center, make a well in the center of the platter about 5 inches in diameter. Mound the bean salad into the well, and sprinkle with a handful of pumpkin seeds. Arrange olives and pepper strips around the edge of the platter.
Bean and Pumpkin Casserole
2 cups dried adzuki beans, soaked in water overnight
2 tablespoons of Kapha Churna
1 tablespoon sesame oil or rice bran oil
2 cm chunk of fresh ginger, sliced fine or grated
4 cups water
800g pumpkin cut in bite-sized pieces
1 tablespoon miso
1 spring onion, sliced fine
1 1/3 cups hot cooked wild or basmati rice
Drain and rinse beans. Heat a large saucepan on a medium heat. Add oil and sauté Kapha Churna and ginger for 2-3 minutes. Add the beans, water, pumpkin and miso. Bring to a boil then turn down the heat to medium-low. Lace a lid on the pot and cook for 30 minutes, until the beans and pumpkin are soft. Mix the casserole gently to combine everything. Serve garnished with spring onions and the rice on the side.

Wishing you the bliss of balance!
Linda and the Get Balance Team
Linda Sinden has been a practising Maharishi Ayurveda Consultant since 1990 and is a regular contributor to our weekly Insights. She has a practice in Auckland, New Zealand and also provides phone or Skype sessions for those who need assistance, but don't have a consultant in their vicinity.

Email: lindasinden@orbislife.co.nz Skype: Linda.Sinden
Mobile: +64 212237525
---
Leave a comment
The Herbs in Maharishi Ayurveda Products Are Prepared in the Traditional Ayurvedic Way. 100% Natural and Side-Effect Free. Made to Naturally Restore Balance in Your Body. Buy Now!