Summer Tonic
Author: Linda Sinden Date Posted:22 January 2018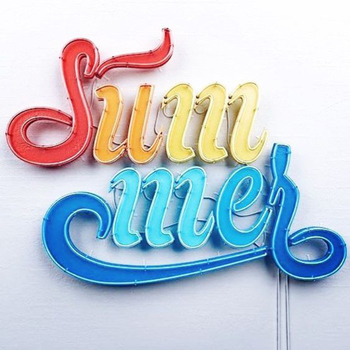 As the longer days of summer offer options for more play and longer days, are you feeling the need for a summer tonic to help support energy and remove fatigue?
Summer is the time where heat increases both outside and within us. To maintain balance we naturally lean towards foods that help to cool us down like sweet fruits and fresh crisp salads. I am particularly enjoying lettuce leaves straight from our garden with fresh parsley or basil. I'm also enjoying crisp sweet apples and pears and juicy nectarines. I'm in heaven! What foods are you naturally drawn to at the moment?
As food is considered to be a medicine in Ayurveda the first way to increase energy, satisfaction and remove fatigue is to favour Pitta balancing foods. Select this link to view Pitta balancing foods > What Pitta balancing foods are you naturally including in your diet while the weather is warm?
Additionally there is a potentised berry fruit that is especially helpful during summer and is also useful at other times of the year too.


Amla Berry Plus
The Amla Berry is a small berry fruit of the Indian Gooseberry known as Emblica Officinalis, Phyllanthus Emblica or Terminalia Emblica in Latin. It is a rich, natural source of vitamin C with 3,000mg per berry fruit. In addition each berry is packed with other ingredients that help to
Increase energy and stamina
Support cellular regeneration (which is the process by which tired, old cells are replaced by vital, new ones). This helps to remove fatigue and naturally promote energy and vitality.
Enhance protein synthesis, which is why it is good for strengthening muscles and building lean muscle mass.
Is used by those who exercise, athletes and bodybuilders as a natural way to tone muscles and build lean mass.
It is traditionally used to:
Strengthen immunity
Enhance food absorption
Balance hyperacidity
Fortify the liver
Nourish the brain and mental functioning
Support the heart
Strengthen the lungs
Regulate elimination
Enhance fertility
Help the urinary system
Support skin health and appearance
Promote healthier hair
Act as a body coolant
Flush out toxins
Increase vitality
Strengthen the eyes
Improve muscle tone
Act as an antioxidant
Provide an excellent source of Vitamin C
Maharishi Ayurveda processes Amla according to the Vedic texts which specify using only wild Indian Gooseberry and employing a multiple drying and dipping method that dramatically increases the potency.
Herbals containing Amla
There are five key herbal formulas that contain Amla. Review them below to see which ones would be most suitable for you this summer:
Lastly Maharishii Ayurveda processes Amla in a way that dramatically increases its potency. Isn't that great! The Vedic texts specify using only wild Indian Gooseberry and employing a multiple drying and dipping method then the dramatically increases the potency.
Wishing you the bliss of balance this summer!
Linda Sinden and the Get Balance Team
Linda Sinden has been a practising Maharishi Ayurveda Consultant since 1990 and is a regular contributor to our weekly Insights. She has a practice in Auckland, New Zealand and also provides phone or Skype sessions for those who need assistance, but don't have a consultant in their vicinity.

Email: lindasinden@orbislife.co.nz Skype: Linda.Sinden
Mobile: +64 212237525
---
Leave a comment
The Herbs in Maharishi Ayurveda Products Are Prepared in the Traditional Ayurvedic Way. 100% Natural and Side-Effect Free. Made to Naturally Restore Balance in Your Body. Buy Now!