We Time
Author: Linda Sinden Date Posted:16 April 2018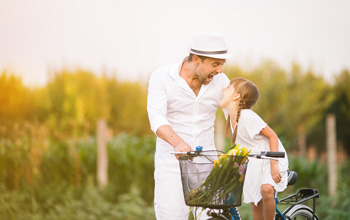 Are you satisfied with the warmth and depth of your relationships? 'We time' can be described as time dedicated exclusively to building a stronger relationship with family members or friends. Dedicating this time to family and friends is considered to be one of the best ways to strengthen the bonds between loved ones.

How to get more 'We time'
It is widely accepted that it is the quality, rather than quantity, of this time that matters. What actually defines 'quality time' can vary from person to person. What is quality time for you? What does your loved one like?

Some may regard regular household activities such as preparing dinner together, as opportunities for quality time with family members.

Others might enjoy taking a weekend trip, catching up for coffee, spending a day at an amusement park, zoo or museum, or going for a walk with family or friends.

Regardless of the activity ' and it doesn't have to cost money ' the important thing is to make it a priority to spend that quality time together and share a mutual experience.

Planning time to spend with your loved ones is important. When you actually schedule time in your day or diary to spend with family and friends, it is much more likely to happen than if you just leave it to chance.
Have you noticed...
If you've noticed that your mood or inner happiness seems to dip or vary as the weather becomes colder then Blissful Joy tablets can make all the difference. As the sunlight hours lessen our pineal glands sometime mark this change in a way that causes fluctuating moods.
Blissful Joy supports co-ordination between the heart and emotions, uplifting the spirit and emotions naturally. Situations that used to cause stress can be easier to handle and you can find yourself responding to life's challenges - big and small - with a new outlook.
Give yourself a daily oil massage (Abhyanga)
As the weather turns cool, it's time to consider applying luxurious Vata Massage Oil to your body. This is the time of the year where Vata Dosha is increased and Vata imbalance arises more easily. Applying Vata Massage Oil to your body daily is a great preventative. Plus, it feels really good!
Follow this self massage with a luxurious soak in the bath or warm shower. Add to the water 5-10 drops of Vata Aroma Oil and do it prior bed for a great night's sleep. Or apply prior your morning shower or bath for a sense of invincibility or protection through the day. Try it and see!
Wishing you the bliss of balance!
Linda Sinden has been a practising Maharishi Ayurveda Consultant since 1990 and is a regular contributor to our weekly Insights. She has a practice in Auckland, New Zealand and also provides phone or Skype sessions for those who need assistance, but don't have a consultant in their vicinity.

Email: lindasinden@orbislife.co.nz Skype: Linda.Sinden
Mobile: +64 212237525
---
Leave a comment
The Herbs in Maharishi Ayurveda Products Are Prepared in the Traditional Ayurvedic Way. 100% Natural and Side-Effect Free. Made to Naturally Restore Balance in Your Body. Buy Now!