What About You?
Author: Maharishi Ayurveda Date Posted:7 November 2017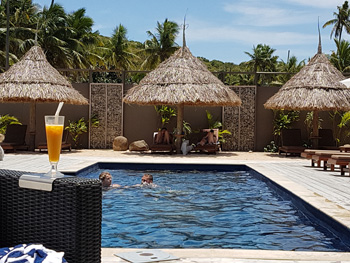 When did you last take a holiday to a place where relaxation and enjoying nature in all her beauty, be it sun, rain or wind is the norm; when after only a few hours of arriving it seems like you have been there for a day or so…
For me, it has been too long… What about you?

As I sit in the shade of a tall coconut tree I am grateful that my twin sister Louise wished to celebrate our birthday this way. On reflection I would not have prioritised to come here otherwise and would have missed a beautiful and rejuvenative expereinced in Fiji at Paradise Cove in the Naukacuvu Islands. Does this sound familiar for you too?
Ayurveda is all about balance… and the balance of work and play is an important aspect of a balanced life.
With the competition between airlines for your travel dollars and the special packages available through Grab One and similar online marketing agents, it is much more affordable now for families, couples and retirees. And with the increasing numbers of couples and aging baby boomers the travel industry is responding with Adult only sections for those 18 years and over.
So what are your next holiday plans?
Sometimes in the past dietrary needs were hard to meet and it seemed easier to eat at home or self cater than to be part of a resort.
If you are vegetarian, vegan, gluten free, dairy free or have some food allergies then their menu is a delight to see. The food is mostly sourced from 3 villages within the local island so is seasonal and prepared with attention to detail and balance of tastes and flavours.
I'd like to think this is an expression of rising world consciousess.
Being in tune with nature's daily cycle is more natural and easy. Enjoyment of the next day often starts with bedtime the night before. As the night settles in and the evening meal allows you to choose how light you would like to eat and as one relaxed in the evening then 8.30pm feels like 9.30pm. If you choose you can wind down with nature for a great nights sleep easily in bed by 9.30pm, relaxed and sleepy. Then the morning can start with a one hour yoga session 7.30-8.30am if you wish following a morning meditation upon waking.
If you like to swim, snorkel, dive, visit the local villages and more the day becomes a delight and complete break from my usual daily life.
As I am winding down the natural grace and happiness of the Fijian people is beautfiful to be around. By nature Kapha predominates so they have a strong and more curvy physique, even temperament and love of family, play and laughter. It reminds me of how our enviornment can greatly influence our internal experience and how we then respond to others. Ayurveda recommends we surround ourselves with people who are in step with nature and are naturally loving and wise. Such people are called Sattvic people.
The herbals I recommend to support a great holiday… no matter where it is are:
Wishing you the bliss of a balanced life with regular intervals of down time in places you enjoy!
Linda Sinden and the Get Balance Team
Linda Sinden has been a practising Maharishi Ayurveda Consultant since 1990 and is a regular contributor to our weekly Insights. She has a practice in Auckland, New Zealand and also provides phone or Skype sessions for those who need assistance, but don't have a consultant in their vicinity.

Email: lindasinden@orbislife.co.nz Skype: Linda.Sinden
Mobile: +64 212237525
---
Leave a comment
The Herbs in Maharishi Ayurveda Products Are Prepared in the Traditional Ayurvedic Way. 100% Natural and Side-Effect Free. Made to Naturally Restore Balance in Your Body. Buy Now!