What's up for dinner?
Author: Maharishi Ayurveda Date Posted:27 March 2017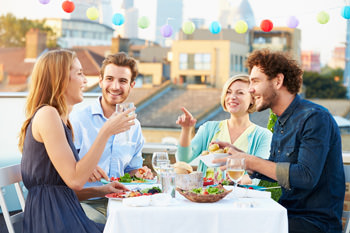 Recently we were asked what's best to eat in the evening? The answer to this question changes with the season.
As the seasons change do you notice that you are drawn to different foods? The bright berries, juicy sweet summer fruits and crisp salads become less appealing as the cooler weather sets in with the arrival of autumn.
This inclination to move towards warmer foods as the cooler weather arrives naturally guides us to eat what is best for us. Ayurveda recommends that we favour seasonal fruit and vegetables bought from local markets, or even better, harvested from our own garden. Where you can also choose organic.
Best food choices
As Autumn and Winter are governed by Vata dosha then Vata dietary guidelines are recommended. Select the link to print out the food list and have it nearby for easy reference.
Nine great Autumn foods to include are parsnips, turnips and swedes, sweet potatoe, pumpkins, winter squash, apples, pears and fresh figs.
Power up
As Vata dosha is like the wind, sometimes more and sometimes less, then digestive power can become more variable during Vata season. To ensure optimal nutrition and reduction of impurities from incomplete digestion we suggest you consider taking
Evening meal recipes
Here are some simple evening meal recipes for you to enjoy.
Kichari soup
Vegetable fritters
Vegetable subjee
Tasty quinoa

Kichari Soup
When you want something light and tasty to eat consider a Kichari soup:
Ingredients:
1 part moong beans (soak overnight in water with a little lemon juice)
3 parts basmati rice,
Preparation
Drain the moong beans and rinse well. Then add the moong bean and basmati rice into a pot and cover with water. Simmer until tender and then spice, add lemon juice and rock salt.

Spicing options
1. Black mustard seeds, cumin seeds, chopped fresh ginger, curry leaves. Fry briefly in some ghee. Add coriander powder. Add this mixture to the khichari with some rock
salt to taste. OR
2. Fry in ghee fresh ginger finely chopped with cumin powder. Add to kichari. Then
add directly to the kichari, fresh finely cut coriander leaves, a pinch of turmeric and
black pepper some rock salt. Stir well. OR
3. Kapha or Vata or Pitta churnas, curry leaves. OR
4. 4-5 curry leaves, 1T cumin seeds, 1⁄2 tspn fenugreek seeds, 1⁄4 tspn hing, 1⁄2 tspn
turmeric
5. A few drops of lemon juice at the end of cooking.
6. Can also add hing, (asafeotida) directly to the khichari at the end of cooking.
Vegetable fritters
Place 2/3 channa flour and 1/3 spelt wholemeal flour into a bowl
Add your favourite spices eg cumin, turmeric, coriander, fennel seeds, mixed herbs etc and rock salt.
Add enough water to form a batter-like consistency.
To help make the pancakes light and easy to digest allow the bowl of batter to sit on the bench at room temperature for about 12 hours.
Prior frying add vegetables to the batter e.g. grated zucchini and grated pumpkin, or other vegetables according to season.
Fry fritter-sized amounts in ghee. Turn and cook both sides.
Savoury Sauce for fritters or pasta
Ingredients
1tsp cumin seeds, 2tsp coriander seeds, 1 heaped tsp cumin powder, 1 tsp turmeric, 1 tsp grated ginger, 1⁄2 tsp black pepper, 4 tomato's and ghee or 1-2 tsp of Vata Churna.

Preparation
Sauté spices, add peeled tomato and simmer, then, add any of these fresh herbs: basil, coriander, mint, dill, chervil, marjoram, rosemary, oregano according to your taste.
Vegetable subjee – soupy veggie dish that is easy to digest
Ingredients: any veggie you like, eg pumpkin, carrot, green beans, zucchini, spinach etc.
Vata Seasonal Spice Mixture
1. Sauté 1 tsp of Vata Churna in ghee.
2. Add and sauté chopped vegetables
3. Cover with water and simmer with lid on till vegetables are cooked.
4. Then add salt and pepper to taste.
5. Squeeze a little lemon or lime over the vegetables and serve.
Tasty Quinoa
1 cup quinoa,
1 and 3⁄4 cups water
1⁄2 teaspoon rock salt
1.5 tsp of Vata Churna sauteed in ghee
Rinse the quinoa in a large, fine sieve under cold running water until the water runs clear.
Drain the quinoa well. Soak overnight in water and a squeeze of lemon juice, then drain and rinse.
Place the water and quinoa in a heavy 2-litre pot and bring it to the boil, simmer covered, for ten minutes until the quinoa's spiral-shaped germ ring has separated.
Add salt and Vata Churna that has been sauted in ghee and stir to mix through.
Bon appetite! We look forward to hearing how you enjoy these recipes.
Linda Sinden has been a practising Maharishi Ayurveda Consultant since 1990 and is a regular contributor to our weekly Insights. She has a practice in Auckland, New Zealand and also provides phone or Skype sessions for those who need assistance, but don't have a consultant in their vicinity.

Email: lindasinden@orbislife.co.nz Skype: Linda.Sinden
Mobile: +64 212237525
---
Leave a comment
The Herbs in Maharishi Ayurveda Products Are Prepared in the Traditional Ayurvedic Way. 100% Natural and Side-Effect Free. Made to Naturally Restore Balance in Your Body. Buy Now!