Your Antiviral Immune Boosting Trio
Author: Linda Sinden Date Posted:20 November 2020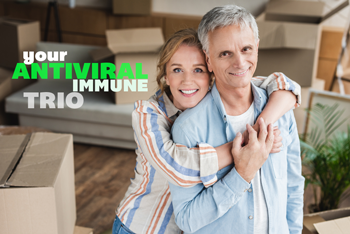 Even with summer on the horizon the end of the world wide pandemic remains no closer and the
trickiness of the virus is more apparent. The need is to stay vigilant, so this week we focus on a 3 Step - Antiviral Immune Boost Programme. We recommend you include one or all three into your daily regimen to support during this time of increased stress and challenge.
3 Step - Antiviral Immune Boost Programme
The Antiviral & Immune Boosting Trio of Rejuvenation Plus, FluCol Defence and Inflam Protect make can be taken singularly or for extra resilience consider taking all three.
Step 1 - Rejuvenation Plus (MA631)
Take 1-2 tablets 30 minutes before breakfast and evening meals.
Traditionally used to support resistance to disease Rejuvenation Plus
Supports the restorative processes of young and old, men, women and children.
Helps to maintain energy, stamina, bone strength
Supports the production of Ojas the substance Ayurveda explains is the basis of good immunity and reproductive health.
The main ingredient Shilajit is a known source of powerful antiviral substances.
Step 2 FluCol Defence
Take 2 tablets of FluCol Defence 30 minutes before breakfast, lunch and dinner.
Flu Col Defence helps to balance all three doshas and contains 86% Licorice and 7 % Ashwagandha.
Licorice supports healthy digestion, throat and stomach comfort
Licorice soothes stomach acidity
Licorice helps to strengthen immunity and support clearer breathing.
Ashwagandha supports resistance to stress, healthy functioning of the adrenal and reproductive system and improves communication between brain and gut.
Ashwagandha also increases stamina, energy and muscle strength.
Step 3 Inflam Protect
Take 1-2 tablets twice a day half an hour before meals with warm water or honey.
The main ingredient Mountain Ebony powerfully supports digestion, healthy blood formation, and flushing of toxins. As 70% of immune cell production occurs in the digestive system supporting your digestion with Inflam Protect is very helpful.
Energising and Immunity enhancing herbals
Improves digestive fire
Antiviral herbs and adaptogens to support during this time of increased stress

Wishing you the bliss of balance with a resilient immune system and top notch viral support.
Linda Sinden and the Get Balance Team
Linda Sinden has been a practising Maharishi Ayurveda Consultant since 1990 and is a regular contributor to our weekly Insights. She has a practice in Auckland, New Zealand and also provides phone or Skype sessions for those who need assistance, but don't have a consultant in their vicinity.

Email: lindasinden@orbislife.co.nz Skype: Linda.Sinden
Mobile: +64 212237525
---
Leave a comment
The Herbs in Maharishi Ayurveda Products Are Prepared in the Traditional Ayurvedic Way. 100% Natural and Side-Effect Free. Made to Naturally Restore Balance in Your Body. Buy Now!