Youthful Vigour & Gifts for you and yours
Author: Linda Sinden Date Posted:7 December 2020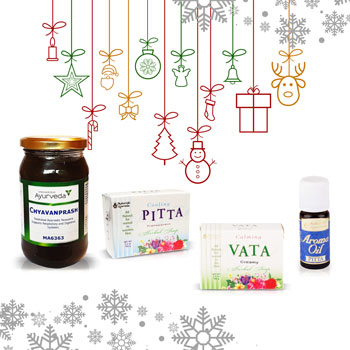 Spoil your loved ones near and far with gifts that nourish the mind, body, and spirit. Below, you'll find three gift ideas to let your close ones know you're thinking of them. Tip: Choose DHL courier for Australian customers as they deliver within 3-5 business days.

Give the Gift of Youthful Vigour with the Tasty Chyawanprash

Chyavanprash is a powerful blend of herbs, raw honey, and clarified butter (ghee) that is renowned in ayurveda for rejuvenating the mind, body and spirit. Plus it tastes great too! Chyawanprash (which means what Chyawan ate to restore his youthful vigour) can be eaten straight from the teaspoon, or stirred into milk or water. Like any other jam, you can spread it on toast, bread, or crackers or mix it into milk or almond milk. This 250 gm bottle is the perfect size to slip into a stocking or when giving a little something that tastes great and helps one feel great too! Or why not slip it into your own Christmas stocking and treat yourself. Buy now while stocks last.

2 Soaps for Luxurious Lathers
Have you thought more about soap this year than ever before? Practising good hygiene has been particularly important this year. The following herbal soap bars help to keep your skin smooth, soft and fresh with timetested herbs and aromas to delight your senses while ensuring good hygiene too. Choose one or get them both for variety. They really are lovely to use and provide a subtle and beautiful aroma to the bathroom.

Lemongrass Heaven - Calming Vata Herbal Soap
This creamy lemongrass soap cleanses deeply without stripping natural moisture from your hands and skin. The mild natural base, lemongrass oil and ayurvedic herbal ingredients of elecampane, flame-of-the-forest and turmeric help to moisturize and balance the skin on your hands and body naturally.
Sweet Cedar and Sandalwood - Soothing Pitta Herbal Soap
The sweet smelling gentle cedar sandalwood soap cleanses and nourishes and soothes your hands and skin. The mild natural base, cedar sandalwood with cedar oil, sandalwood oil, waterlily and flame-of-the-forest is perfect for even the most sensitive skin.
Oh the heavenly smells of Summer! - Pitta Aroma Oil
Imagine a gentle summer evening with the summer flowers blooming, spreading their sweet aroma to delight the senses as you stroll in the moonlight. Then think of Pitta Aroma Oil because it is similar. The sweet essences of flowers and plants within the amazing are a precise blend of 100% pure essential oils providing a fragrant experience to help soothe, cool and settle the mind and body, creating an uplifting sense of contentment and ease.
This little gem is a wonderful gift for anyone and a small and delightful addition to the xmas stocking of someone special!

Wishing you the joy of balance as you prepare for a wonderful season of love and appreciation of those dear to you, be they near or far. Shop now and we can get it to you before xmas. Happy shopping and a merry xmas!

Linda and the Get Balance Team
Linda Sinden has been a practising Maharishi Ayurveda Consultant since 1990 and is a regular contributor to our weekly Insights. She has a practice in Auckland, New Zealand and also provides phone or Skype sessions for those who need assistance, but don't have a consultant in their vicinity.

Email: lindasinden@orbislife.co.nz Skype: Linda.Sinden
Mobile: +64 212237525
---
Leave a comment
The Herbs in Maharishi Ayurveda Products Are Prepared in the Traditional Ayurvedic Way. 100% Natural and Side-Effect Free. Made to Naturally Restore Balance in Your Body. Buy Now!