Digesting Christmas
Date Posted:10 December 2013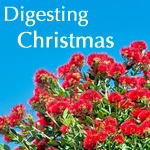 As December 25th approaches do you light up with anticipation and joy, or cringe wondering how to balance your needs and the needs of others? It is meant to be a holiday, right?
Christmas shopping, family gatherings, increased social activity along with increased spending, richer food and festive drinks can make this time of year a challenge.
Read on to see how to get the most out of Christmas this year with full and complete digestion… mentally, physically and emotionally.
1) Plan ahead
Schedule time to relax, chill and recuperate as well as spending time with friends and family. Shop early and avoid the last minute Christmas rush. Have a budget and stick to it - spending time together can be the best present. Aim to have a few small gifts in the event of someone arriving unexpectedly with a gift for you.
2) Give a gift that helps to balance
If your loved one is by nature quick moving, lively and imaginative person, who likes change and variety and get's worried or fearful when stressed then Worry Free along with some Vata Tea will be most appreciated.
If your loved one is by nature hard-working, goal oriented person who can be prone to overwork, has a sharp appetite and can respond to stress with frustration and bursts of anger, then Emotional Balance and a Pitta Tea will be most suitable.
If your loved one is by nature relaxed, easy going, prone to lethargy, low energy, weight gain or congestion, then some Blissful Joy and Kapha Tea will be in order.
3) Keep your expectations 'real'
If you are thinking about creating the 'perfect Christmas' be easy… The most important thing is for you and your family and friends to have fun. If things don't go exactly as you planned, it's not the end of the world so be easy. If you are hosting Christmas day consider asking others to bring different parts of the meal and ask the children to help out. Give them a clear task to do and remember to say thank you when it is done.
4) Keep your energy high
Take Energy Plus 1-2 tablets prior meals.
5) Ensure your digestive fires are burning brightly
Maintain high energy by taking Digest Tone 1 -2 tablets prior lunch and dinner.
6) Stay calm
If you find Christmas can be a challenging time mentally and emotionally take Calm Mind morning and evening. It works!
7) Be well resourced
Be sure to have a relaxed morning walk to wake up the body (with the blessings of the sun on your pineal gland) and take time for a nourishing morning routine when you can – oil massage, yoga, pranayama and meditation are great ways to supercharge your mind, body and emotions.
Wishing you a successful preparation for a happy Christmas.
The Get Balance Team
The Herbs in Maharishi Ayurveda Products Are Prepared in the Traditional Ayurvedic Way. 100% Natural and Side-Effect Free. Made to Naturally Restore Balance in Your Body. Buy Now!