Get a great start to your day
Date Posted:9 June 2015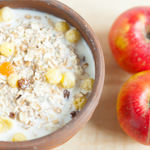 Breakfast boycotters get left behind
Eating breakfast might be the last thing on your morning to-do list, or not even on your list at all. But breakfast is the most important meal of the day, especially if you're active. Eating breakfast has been shown to improve concentration, problem solving, mental performance, memory and mood… and just so we're clear, coffee doesn't count!
Despite breakfast being the most important meal of the day, many people skip breakfast every morning. Breakfast can provide a significant amount of fiber, calcium, B vitamins and nutrients, which are unlikely to be made up during the rest of the day if breakfast is missed. And if you're one of those people who think that missing breakfast will help you lose weight, well sorry it won't. In fact, breakfast eaters are more likely to have better weight control and have lower cholesterol than those who skip breakfast as this often leads to over-eating later in the day. Try the tasty and nourishing Bircher Muesli Recipe below and get a boost to your brainpower and energy for the day.
Herbal Support for Great Digestion
To fire up digestion and wake up your metabolism in order to make the most of the nutrients in your breakfast
Ensuring your digestive fires are strong and balanced first thing in the morning will give you a great start to your day.
Bircher Muesli Recipe
This recipe is soaked overnight which is the traditional way the Swiss do their muesli and the Scots do their porridge. Soaking helps make whole grains, nuts and seeds easier to digest and less capable of binding to key nutrients and limiting their absorption. It also softens the linseed for better access to its Omega 3 and soluble fiber and helps maintain internal gut health, plus a healthy metabolic rate. An entire week's worth of cereal can be soaked and refrigerated to make it easy when the morning is busy. Then each morning an amount can be warmed in just a few minutes.
Makes About 7 Cups
2 C oats (if you are gluten intolerant ensure oats are gluten free)
3 1/2 T whole linseeds (flax seeds)
1/2 C rice bran – rice flakes
1/2 C corn grits
1/2 C millet flakes
2 C water
1/4 C cashew nuts
1/8 C pumpkin seeds
1/8 C pistachio nuts
1/2 t ground nutmeg
Method
In a clean, 1-litre glass jar, combine all ingredients. This is much easier to mix when dry, before adding filtered water. The jar should be about 3/4 full. Stir in the water in batches and mix well. Cover and refrigerate. By morning the water will be absorbed. The result should be neither hard nor drippy. The cereal should scoop out with a cream cheese-like consistency – firm but moist.
Breakfast serve
1 C Bircher's Muesli (recipe below)
1/2 C raspberries
2 T rice milk
1 C water (more or less depending on how you like it)
Place the muesli in a saucepan with water. Cover and over a high heat bring the cereal to a bubbling simmer. Stir and re-cover. Turn the heat off and leave to set for 7 minutes or longer. Top with berries and yogurt.
Wishing you the bliss of balance.
| | | |
| --- | --- | --- |
| Linda Sinden has been a practising Maharishi Ayurveda Consultant since 1990 and is a regular contributor to our weekly Insights. She has a practice in Auckland, New Zealand and also provides phone or Skype sessions for those who need assistance, but don't have a consultant in their vicinity. Email: lindasinden@orbislife.co.nz Skype: Linda.Sinden Mobile: +64 212237525 | | |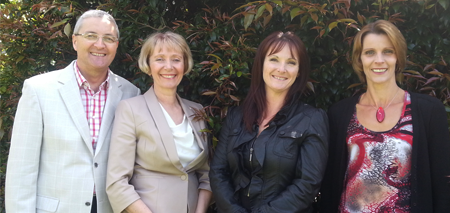 Wayne, Linda, Theresa and Louise
The Get Balance Team
The Herbs in Maharishi Ayurveda Products Are Prepared in the Traditional Ayurvedic Way. 100% Natural and Side-Effect Free. Made to Naturally Restore Balance in Your Body. Buy Now!