Healthy Hair Tips for You
Date Posted:19 April 2012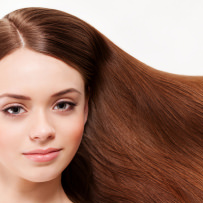 As the weather turns cool most of us face the problem of dry, dull hair during winter. For others a tendency for dandruff, early graying, thinning of hair, or balding can become pronounced as the winter chill increases.
The underlying cause of these different types of hair conditions is well understood within Maharishi Ayurveda and there are some simple but key things you can do to make a difference. Here's what to do…
Tips for healthy shiny hair
To keep your hair shiny and healthy and to reduce dry brittle hair and split ends make a point of nourishing the scalp and roots of your hair. For best results nourish your scalp and hair follicles from both inside and outside
Take Healthy Hair and Nails (MA953) 1-2 tablets twice a day
Do a pre-wash oil about 30 minutes prior washing your hair with Vata Hair and Scalp Oil (MA920)
Herbal Nasal Oil (MP16). Apply 1-2 drops to each nostril after the shower in the morning and about 5pm
Ensure you sleep well: Be in bed by 9.45pm and aim for 7-8 hours sleep (undisturbed if you can) each night.
Favour a Vata Pacifying diet, Vata tea and Vata seasonal spice mixture.
These recommendations will also help restore hair quality after hair has been dyed.
Dandruff or Seborrheic dermatitis
When the normal flaking of the scalp becomes excessive causing thick layers of dead skin particles, it is called dandruff. When the sebaceous gland also becomes affected it produces severe dandruff, a red, itchy scalp and can cause patchy baldness.
What can you do? Give your body support in order to cleanse and nourish the scalp and roots of the hair. Nourish from both inside and outside for best results
Take Healthy Scalp (MA995) 1-2 tablets twice a day
Do a pre-wash oil about 30 minutes prior washing your hair with Vata Hair and Scalp Oil (MA920)
Herbal Nasal Oil (MP16) Apply 1-2 drops in each nostril after the shower in the morning and again around 5pm
Avoid excessive intake of oily and sweet foods.
Avoid exposure to severe cold
Early graying, thinning or baldness
When you experience early graying, thinning or baldness it indicates the fire element (Pitta dosha) has increased and moved upwards over-heating the scalp and roots of your hair. To help restore a healthy balance