Simply Amazing Triphala
Author: Maharishi Ayurveda Date Posted:8 August 2015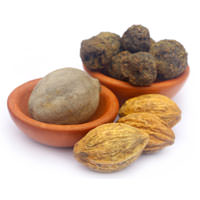 Amazing Digest Tone
If you were to choose just one herbal combination to take to provide strength, protection and a gentle cleanse that can be taken daily, then Digest Tone would be the one.
Why?
Digest Tone Organic contains Triphala (three powerful fruits) plus Rose Centifolia. Triphala is a potent antioxidant that has 600 times more antioxidant content than an orange. Each of the three fruits in triphala are powerful tonics and cleansers in their own right. When they are combined their synergy makes an even more powerful tool to strengthen and protect wellbeing, while being a very gentle and effective way to detoxify the body.

Haritaki
Mentioned in almost all Ayurvedic textbooks it is nourishing and said to be "as useful for everyone as mother's milk". It cleanses the channels in the body, is absorbed quickly by the body and is balancing to the winds, fires and waters of the body. It supports the digestive system, spleen, liver, heart and healthy skin. It enhances absorption of nutrients and helps cleanse the channels within the body. It supports immunity and balance of all three doshas. It also supports mental clarity, ability to focus and stamina of the mind and senses.
Amalaki or Amla
An excellent source of Vitamin C, Amalaki is the most concentrated and absorbable source of vitamin C in the plant kingdom. Amalaki also contains other absorbable minerals that nourish the skin, blood and whole body and is a powerful antioxidant. Promotes cooling so pacifies heat in the digestive system. It is among the best rejuvenative herbs and promotes food absorption and absorption of calcium. Amalaki suppports the liver and urinary system, nourishes the brain, promoting coordination between learning, retention and recall and supports a strong mind and heightened sensory awareness. It promotes a healthy glow and luster of the skin.
Bibhitaki

Is very effective in helping to reduce the accumulation of fat and fluids in the body supporting health of bodily fluids, blood, muscle and fat tissue. It clears clogged channels almost as if drilling them clear. It supports the eyes and hair (root, colour and strength)

Rose Centifolia
Obtained from rose petals Rose Centifolia is added to support the synergy of the other ingredients. It enhances absorption of the three fruits and allows Digest Tone to be taken long term.
How do I take it?
Take 2 tablets prior your evening meal. This is the time of the day when Digest Tone will be the most helpful!
If you have a history of constipation take 2-4 tablets 1 hour prior bed.
Want an energy lift or tonic to help stimulate metabolism?

Boil up 1 teaspoon of Digest Tone Powder Organic in 2 cups of water for 20 minutes in the evening or late afternoon. Then let it sit overnight and drink the fluid only first thing in the morning on an empty stomach.
Or take 1 tablet of Digest Tone Organic 15-30 minutes prior main meals 2-3 times a day. If you forget then you can take it just before eating.
Wishing you the bliss of balance
Linda Sinden has been a practising Maharishi Ayurveda Consultant since 1990 and is a regular contributor to our weekly Insights. She has a practice in Auckland, New Zealand and also provides phone or Skype sessions for those who need assistance, but don't have a consultant in their vicinity. Email: lindasinden@orbislife.co.nz Skype: Linda.Sinden
Mobile: +64 212237525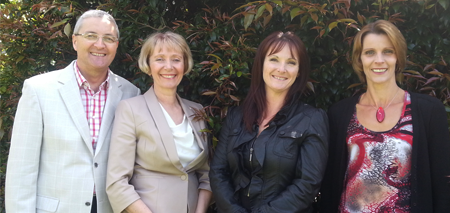 Wayne, Linda, Theresa and Louise
The Get Balance Team
The Herbs in Maharishi Ayurveda Products Are Prepared in the Traditional Ayurvedic Way. 100% Natural and Side-Effect Free. Made to Naturally Restore Balance in Your Body. Buy Now!