Spicy Lentil Casserole
Date Posted:24 July 2012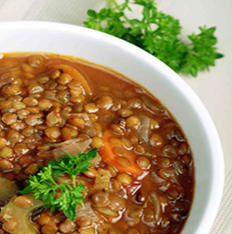 Try this easy to make, tasty, spicy lentil dish.
Tip: To spice it right use the spice mix or Churna that matches your current needs. See which one suits your needs:
Vata Churna - If you are changeable, indecisive, fast moving or anxious; prone to insomnia, spells of forgetfulness, dry skin and constipation; need calming and settling, then Vata Churna is the one for you.
Pitta Churna - If you are intense; critical; frustrated or angry; prone to overwork, have a ravenous appetite and excess stomach acid; prone to hot flushes and need cooling down in the body and or mind, then Pitta Churna is the one for you.
Kapha Churna - If you are lethargic, complacent or slow-moving, prone to easy weight gain, congestion, oily skin, feeling stiff and heavy (especially in the morning) need stimulating and warming, then Kapha churna is the one for you.
INGREDIENTS - Serves 4
2 tbsp clarified butter (ghee) or vegetable oil, such as sunflower or sesame oil
1 onion, chopped
2 garlic cloves, crushed
700g kumera (or potato) peeled and cut into chunks
4 carrots, thickly sliced
2 parsnips, thickly sliced
2 tbsp of Churna, according to your body-type
1 litre vegetable stock
100g red or brown lentils
1/3 cup of cooked basmati rice per person
A small bunch of fresh coriander, roughly chopped
Low fat yoghurt to serve (omit if you are dairy intolerant)
METHOD
Heat the oil in a large pan and cook the onion and garlic over a medium heat for 3-4 minutes until softened, stirring occasionally. Add the kumara (or potatoes), carrots and parsnips. Turn up the heat and cook for 6-7 minutes, stirring until the vegetables are golden.
Stir in the Churna that suits your body type, pour in the stock and then bring to the boil. Reduce the heat, add the lentils, cover and simmer for 15-20 minutes until the lentils and vegetables are tender and the sauce has thickened.
Stir in most of the coriander, season and heat for a minute or so. Top with yogurt if you desire and the rest of the coriander. Serve with the cooked basmati rice, enjoy.
Nutritional Information
| | | | |
| --- | --- | --- | --- |
| Total Calories: | | | 450 |
| Total Fat: | | | 9g |
| Carbohydrate: | | | 64g |
| Dietary Fibre: | | | 8.7g |
| Protein: | | | 20g |
Related articles
The Herbs in Maharishi Ayurveda Products Are Prepared in the Traditional Ayurvedic Way. 100% Natural and Side-Effect Free. Made to Naturally Restore Balance in Your Body. Buy Now!