Do Sports Performance Supplements Really Work?
Date Posted:10 January 2011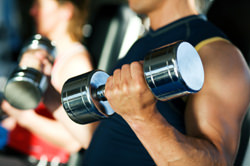 Many people ask whether or not sports performance supplements are effective and worth taking. The answer is both yes and no. Overall optimum health is essential for anyone who wishes to participate in sports. Therefore, there is no "magic sports pill" that is not also found in a smartly chosen, balanced regimen of good health techniques. The most expedient way to excel at any physical activity is to simply acquire and maintain a healthy body first. Sports performance supplements made from all natural remedies can enhance performance by treating mind, body, and spirit.
The foundation of any physical pursuit is, of course, a strong body that is vibrant with energy and health. Certainly a proper diet, regular exercise, and consistent medical attention are all integral to the overall formula. You may wonder, "But what about natural, herbal supplements?" If one is to treat the body, they must also treat the mind and the spirit as well. A natural, holistic approach to wellness offers advantages that no other program can.
Treating the whole person with natural healing remedies is the key to a stellar sports performance as well as the avenue to performing well in life. With our wide range of carefully chosen formulas and products, we are able to address each specific health-building issue individually and as an entirety using methods which interact safely and complement each other. Our bodies are wonderfully complex, so it is no surprise that we require more than simply one vitamin pill each day to function at the highest level.
Ayurveda Supplements to boost your system
ReGen Vitality is a powerful antioxidant, made solely from the most popular and elusive of Ayurvedic herbs — Amla (Indian Gooseberry), which helps build strength and develop endurance. Rejuvenation Plus, on the other hand, is a potent mixture of 41 different herbs, carefully formulated to repair cellular damage, strengthen detox systems, and convert food to energy rather than toxins. This slows the effects of aging and gradually increases your energy stores, which in turn betters your sports performance.
Our formulas are designed to address the myriad needs of men and women as well as the diverse conditions that affect them. Sports performance supplements are really just a part of the overall health program that we strive to build for each of our valued clients. We consider the body, mind and spirit and build your program accordingly. Your wellness is our first priority.
The Herbs in Maharishi Ayurveda Products Are Prepared in the Traditional Ayurvedic Way. 100% Natural and Side-Effect Free. Made to Naturally Restore Balance in Your Body. Buy Now!