Winter Warmer - Butternut Soup
Date Posted:8 July 2014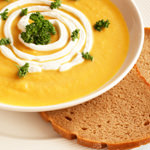 Enjoy this recipe for a tasty evening meal this week!
Where possible Ayurveda recommends that we be kind to our system by eating the bulk of our food during the day when it is most easily digested.
This naturally lends itself to a light, tasty and easy to digest evening meal such as soup. During winter it is especially nice to sit down to a warm soup…
Butternut Soup
INGREDIENTS (Serves 3)
1 t vegetable oil
2 spring onions or ½ cup of leeks chopped (optional)
900g butternut squash, peeled, seeded, and diced
1 C water
1 flat tsp of cumin powder
2 tsp of grated ginger or 1 tsp of ginger powder
2 1/2 C vegetable stock
1/2 C rice, soy or cream diluted: ¼ cup cream to ¼ cup of water
Fresh nutmeg grated
3 tablespoons of lightly roasted cashew nuts
6 slices bread for toasting
METHOD
In a large pot, heat vegetable oil over a medium-to-high heat. Add spring onions or leeks, ginger and cumin powder and saute 2 minutes. Add squash, 1 Cup water and thyme. Cover and cook over medium heat 10-15 min until squash is tender.
Stir in the stock and bring to a boil. Reduce heat and simmer, uncovered, about 10 min. Remove from heat and cool slightly. Stir in milk or cream mixture. Process in batches in a food processor or blender, until smooth.
Serve warm, dusted with the nutmeg with 1 Tablespoon of roasted cashew nuts and toast on the side.
Enjoy!
HERBAL DIGESTIVES
Digest Tone Our best-seller. Powerful tonic for the digestion. Take a look at what it can do...
Digest Plus Appetite stimulant and digestive; helps balance digestive strength and support elimination
Herbal Digest Digestive tonic. Supports improved digestion and balanced appetite. Helps prevent gas and bloating
PS If you have a tasty soup you would like to share with others please send to info@getbalance.co.nz and we will feature it in the coming weeks
Linda Sinden
Maharishi Ayurveda Practitioner
Get Balance Team
The Herbs in Maharishi Ayurveda Products Are Prepared in the Traditional Ayurvedic Way. 100% Natural and Side-Effect Free. Made to Naturally Restore Balance in Your Body. Buy Now!