Discover The Artist Within You
Author: Maharishi Ayurveda Date Posted:13 December 2015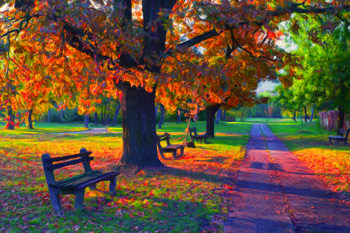 Creativity comes in all forms and fancies. For some it lies in the flick of a paintbrush, for others in dulcet tones, while others find it in the kitchen or craft room.
Being creative is not just about being able to paint, sing, dance, write plays or poetry, or play the mandolin. Creativity embraces every aspect of life.
Allowing full reign to the creative side of your nature gives you a reason to do the job that earns you the money, to go on allowing yourself to be creative.
If something pushes your buttons, why not make a new years resolution to go for it!
How Do You Know When You Are Being Creative?
You are excited
You experience peace and wellbeing
You are engrossed
You experience a sense of satisfaction
You are relaxed
Time flies
Where Can You Be Creative?
In your home
In your garden
In bringing up your children
In your garage under the car, fixing things
In your kitchen
In your workshop
In your job
In your relationships
In your sport
In your hobbies
In your service to the community
Giving it a go can open doors to the unexpected. We discover talents we never knew we had. Nature throws these little treats in our way when we least expect them, and when we most need or deserve them.
The artist in Winston Churchill appeared late in life. There are novelists who didn't write a thing until they were 60 and older. But it may be as simple as baking a batch of scones, digging your own spuds, painting the letter box or putting No 8 wire on the front gate.
Open the oyster and discover the pearl within this year
Creative Support
When being creative why not put on the aroma burner, have a tasty herbal tea and centre your attention with a herbal to support your creativity.
Get out your aroma burner and add 3-4 drops of


Pitta aroma oil

to cool and reduce intensity or frustration.


Vata aroma oil

to calm and relax you.


Kapha aroma oil

to energise and enliven your senses.
Take 2-4 tablets of

Premium Amla Berry Organic

. Amla (Indian Gooseberry) is the most sort-after herbal in Ayurveda. It is considered a powerful Ayurvedic elixir that promotes health, longevity and overall balance for all body types.
Wishing you a fun filled, creative year in 2016.
Linda Sinden has been a practising Maharishi Ayurveda Consultant since 1990 and is a regular contributor to our weekly Insights. She has a practice in Auckland, New Zealand and also provides phone or Skype sessions for those who need assistance, but don't have a consultant in their vicinity.

Email: lindasinden@orbislife.co.nz Skype: Linda.Sinden
Mobile: +64 212237525
---
Leave a comment
The Herbs in Maharishi Ayurveda Products Are Prepared in the Traditional Ayurvedic Way. 100% Natural and Side-Effect Free. Made to Naturally Restore Balance in Your Body. Buy Now!