How To Stay Strong & Never Get Tired
Author: Maharishi Ayurveda Date Posted:2 October 2017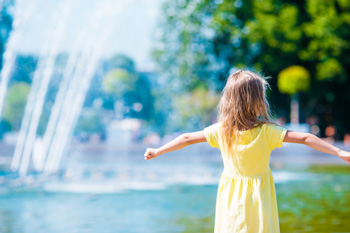 There is an unlimited fountain of energy within you that supports your every breath! We see it in action as a child grows within a mother's womb and in the amazing growth a child goes through in the first years of life. Yes, that amazing power helped you grow just like that too!
This incredible fountain of energy is also seen within the brillant minds of those who are preparing to take us to the stars like we currently take a plane. Look at the advances in technology, wellbeing understanding and political activism to protect the unprotected and support what is evolutionary and life supporting. The world today is very different to how it was in the 90's and will be very different again in another 10-15 years.
Wow.. aren't we amazing!
The ancient physicians who were also 'seers or knowers of reality' understood this field of pure potentiality and cognised how we can keep our channels open to this place of infinite energy and intelligence. They explained there are laws of nature that govern the expression of this boundless source within ourselves and our collective world. When we follow these daily, weekly, seasonal and life stages, then we can stay well and happy, no matter our age, until we are ready to go.
Interested? In essence it is simple… in reality sometimes hard to do. Live life in accord with nature!
Here's how:
Glide with the seasonal changes as they come and go. Each season has natural tendencies which when we listen and follow life is more simple, we stay well and life is more enjoyable. Be in tune with the seasonal changes.


Follow a balanced daily routine adjusted for seasonal changes. As it is Kapha or Spring season follow the recommended Kapha or spring time daily routine > Similary bring into your diet an increase of foods that are in season during spring. See the recommended foods for spring time here

Kapha pacifying diet >

.


Have a seasonal pulse check at each seasonal change so you can nip in the bud any imbalances before they have a chance to spread. If you are unable to have a pulse check or consultation via skype or in person then below are some typical herbals I recommend at this time of the year in the seasonal cleanse section below.


Complete a seasonal cleanse at the change of season - spring, summer, autumn (fall), winter so that stored impurities do not accumulate and clog your body and mind. If not able to get a personal prescription then the following will be very effective:

Prior meals 3 x a day take
Digest Tone 1 tablet
Parasite Clear 2 tablets

15-30 minutes after meals 3 x a day take
Guggul Organic 1 tablet
Turmeric Organic 1 tablet

Bedtime
Herbal Cleanse 2 -3 tablets
If you generally have a sluggish or hard to pass bowel motion, or eliminate less than daily, take Digest Tone 2 tablets and Herbal Cleanse 3 tablets prior bed. Reduce the dose if your bowel motions become watery. Aim for a soft bowel motion that feels like you have cleaned out well.
Sip Kapha Tea, Be Trim Tea or hot water with lemon and ginger every 15-30 minutes from rising to about 8pm. If you experience congestion sip sniffle free tea and bring in Congest Assist as per bottle to help clear accumulated mucous.

Meditate - Practise Transcendental Meditation to keep a lively and whole connection with this field of pure energy and potentiality. Regular meditation allows you to plug in and recharge. This is why we see such amazing research about the effectiveness of T M for physical and mental health; promoting loving behaviour; increased creativity; ability to achieve what is important for you and happiness. T M is easy to do, good for you and pays dividends. Learn more about TM here NZ | AUS

Support your health throughout the year by taking

Amrit Kalash nectar

and Ambrosia which is a high potency antioxidant. It is the flagship product of Maharishi Ayrveda and is very effective. Try it for 1-3 months and see. Take 1 tablet first thing and 1 tablet at bedtime. Ideally make it a long term habit.

Notice how tiredness comes when you have overdone it. Be alert to where and when you overdo and consider your choices.
In summary keep connected and recharged with the power house within you with regular meditation. Choose to follow a balanced daily routine and follow the seasonal guidelines for each season as the season changes.

Lastly, be happy! According to Ayurveda the purpose of life is the expansion of happpiness. When we are happy our immune system is recharges and inflammation is reduced. Being happy is good for you!
Wishing you the bliss of balance
Linda & the Get Balance Team
Linda Sinden has been a practising Maharishi Ayurveda Consultant since 1990 and is a regular contributor to our weekly Insights. She has a practice in Auckland, New Zealand and also provides phone or Skype sessions for those who need assistance, but don't have a consultant in their vicinity.

Email: lindasinden@orbislife.co.nz Skype: Linda.Sinden
Mobile: +64 212237525
---
Leave a comment
The Herbs in Maharishi Ayurveda Products Are Prepared in the Traditional Ayurvedic Way. 100% Natural and Side-Effect Free. Made to Naturally Restore Balance in Your Body. Buy Now!