Rejuvenation for Men
MA347m
60 tablets
Rejuvenate your cells and build a more youthful body
The cells in your body are continually being replaced by new ones, but this process deteriorates with age. The body's organs and tissues are less vital than they once were, which causes premature aging.
Rejuvenation for Men helps restore that youthful vigour. It promotes cellular regeneration, which slows both biological and psychological aging. The benefits continue to grow and accumulate over time.
This formula is especially helpful for supporting and strengthening the genito-urinary and reproductive areas. Often recommended to be taken together with Prostate Protection to provide support and nourishment to the prostate, or taken with Genitrac to support and strengthen the kidneys and bladder.
Helps improve these Ayurvedic factors:
The formation of strong healthy bones (Asthi Agni)
Bone marrow (Majja Dhatu) which fosters physical strength and energy
The quality and quantity of blood (Rakta Dhatu)
Nutritional fluid or plasma (Rasa Dhatu) that feeds every cell in the body
Herbal Masterpiece
The herbs in Rejuvenation for Men are combined in exact proportions and prepared in the traditional Ayurvedic way. This improves bioavailability and assimilation of vital nutrients. It also creates synergy - the collective benefit is much greater than isolated, individual herbs.
It can take three months to prepare a single ingredient such as Mineral Pitch (Shilajit). Following such meticulous methods is the only way to guarantee the traditional benefits described in the Ayurvedic texts.
Chebulic Myrobalan, Belleric Myrobalan and Amla together form the renowned ayurvedic remedy Triphala, which is a gentle digestive toner and cleanser.
Guggul helps balance the total cholesterol in the body.
Turmeric is a rasayana* among spices with a diverse range of benefits. This all-around wonder spice is said to help detoxify the liver, balance cholesterol levels, fight allergies, stimulate digestion, boost immunity and enhance the complexion.
*In Ayurveda rasayanas are considered the primary method for maintaining health and vigour - "that which negates old age and disease is called a rasayana".
---
Always read the label and use as directed. Supplementary to a balanced diet. If symptoms persist see your healthcare professional. If pregnant take under the guidance of your healthcare professional
---
Take 1-2 tablets twice a day with warm water 15-30mins before meals
Be The First To Review This Product!
Help other Maharishi Ayurveda Products New Zealand Ltd users shop smarter by writing reviews for products you have purchased.

---
Customise Your Purchase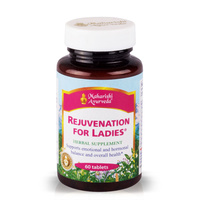 ---
People Who Viewed This Also Viewed