Jason was ready for a change
Author: Maharishi Ayurveda Date Posted:26 September 2016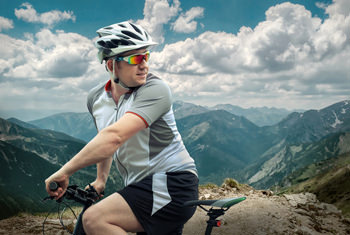 Looking in the mirror Jason saw that his profile was larger than he remembered. The round curve of his stomach had definitely got larger and his back was more swayed to compensate for the extra weight he was carrying. How did that happen? he thought to himself
"Working in a high-pressure sales environment, with long hours, late bedtime and irregular meals hadn't helped, plus sporadic exercise... let's be honest" he thought to himself "no exercise to speak of really for the last 2 years."
As Jason took stock he remembered visiting his grandfather in hospital after his first heart attack. Grandad hadn't realised that his lifestyle would have such an effect and Jason didn't want to go down that path.
Jason remembered a conversation with his father who had a similar frame, but had managed to keep his weight down. Dad had been encouraging him to learn about his unique Ayurvedic profile in order to know the right food, exercise and lifestyle to suit his mind-body type. Looking in the mirror again Jason decided it was time to do something about it. Ignoring it wasn't going to work this time.
Appointment
When Jason came to me for help he explained that his weight had crept up on him, until now at 105Kg he was not so happy about his silhouette or the thought of summer and swimming at the beach. He was ready to do something about it.
I explained that there were simple everyday choices that would make a big difference and some herbals to support his fat metabolism and energy levels.
Here's what helped Jason get back his healthy silhouette and feel happy at the beach again. The simple things Jason did:
What surprised Jason was how easy it was to make these changes and how much happier and more energised he was. He regularly told his friends that he was happier, fitter, healthier, 30kg lighter and he didn't count calories!
Wishing you the bliss of balance and a healthy body shape.
Linda Sinden has been a practising Maharishi Ayurveda Consultant since 1990 and is a regular contributor to our weekly Insights. She has a practice in Auckland, New Zealand and also provides phone or Skype sessions for those who need assistance, but don't have a consultant in their vicinity.

Email: lindasinden@orbislife.co.nz Skype: Linda.Sinden
Mobile: +64 212237525
---
Leave a comment
The Herbs in Maharishi Ayurveda Products Are Prepared in the Traditional Ayurvedic Way. 100% Natural and Side-Effect Free. Made to Naturally Restore Balance in Your Body. Buy Now!