Priority 1 tip for you!
Author: Linda Sinden Date Posted:26 February 2020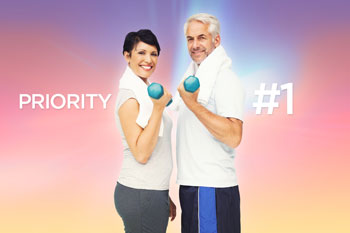 Maintaining physical power
Thinking about the question below, If 10 is all of the time and 1 is none of the time, where would you score yourself on the following statement of physical power and wellbeing?
I have abundant energy and vitality; my breathing is deep and regular, my muscles are relaxed, and my body feels ready for action!
If you can say yes, that's me (your score fell within the 7-10 range) then your physical resources are optimal and your day to day challenges are being met without discomfort. You are on top of the game. If so, then your challenge is to stay that way.
If hand on heart you can say, that your daily experience falls far short of the above statement in the 6 or below range, then it may be time to prioritise work-life balance, sleep, adequate nutrition, being physically active, meditation and relaxation, within the structure of Dinacharya - The Ayurvedic Ideal Daily Routine.
When physical challenge becomes overload and distress arises you may experience breathlessness or difficulty breathing, increased sweating, a tense jaw or tight muscles, a knot or butterflies in your stomach, or feeling faint or dizzy. These are common symptoms of physical stress, and signal that it is time to look at your pace of life and there is no better place to start than with the Ideal Daily Routine recommended by Maharishi Ayurveda.
Why is a regular Daily Routine important?
The regular routines and cycles of nature support us everyday, both outside, in the change of seasons—day turning night and night turning day—and inside, within the circadian rhythms in our bodies and minds. Circadian rhythms are like wheels within wheels, as all of life is interconnected.
Maintaining a daily routine helps us to work with these natural cycles of nature that effortlessly move us through the day from morning to evening and back again.
Our bodies naturally crave consistency. With regular daily activities, our various body systems are able to prepare for and anticipate events. We naturally become more alert closer to our wake-up time. Our digestive systems become activated in advance of regular meal times in order to more efficiently process food. We start to relax and become sleepy prior to bedtime. It turns out that these regular daily events serve to anchor our underlying daily rhythms.
A regular daily routine is key to settling the nervous system and Vata dosha. A regular routine includes regular meal times, work time and daily exercise along with managing stress each day with effective stress management strategies that work for you. Transcendental Meditation provides a very deep level of rest to the mind and body and is a helpful tool for unwinding and de-stressing in the later afternoon or early evening.
Niwa, 37, is a business owner and family man.
I own my own business and I have a young family—life is full and sometimes quite stressful. In the past, I would come home from work to my wife and 2 children, and once everyone had gone to bed, I would stay up late, listening to podcasts, browsing through articles, and catching up on Facebook. Bedtime would be midnight.
My wife often spoke to me about my sleeping habits as I was getting sick regularly and was more grouchy with her and the children. I felt caught between my love for them and the pleasure I had with time out in the quiet of the late evening. It wasn't until I attended a business mentoring programme, where the importance of starting the day early and well was highlighted, that I changed my bedtime to before 10PM—and what a difference it's made!
Now, I wake up at 5AM, meditate, exercise, read, reflect on my priorities and have a good breakfast. I have more energy throughout the day, I'm happier and more loving, and I find it easier to cope with the day to day stresses and challenges I now notice how unavailable and unloving I had been and I see what it had been costing me too.. Early to bed and early to rise has become an important part of my lifestyle.
Niwa changed his evening routines and ways of thinking to achieve quality sleep. He not only slept better, was energised, and achieved work benefit, but he also experienced an unexpected bonus of deepening love, warmth and affection.
What's best for me?
When thinking about making change to your daily routine it is important to take small steps. Below are three links that take you to a page where you can see the No 1 priority for you based upon your dominant dosha at the moment. If you are not sure what dosha is best for you to balance currently then complete our free Test Your Health Quizz here>
Tip:
Remember to never underestimate the importance of sleep, good nutrition and a daily rasayana like Amrit Kalash Nectar and Ambrosia, exercise, effective stress management and a listening ear, when you need one.
Wishing you the bliss of balance.
Linda Sinden has been a practising Maharishi Ayurveda Consultant since 1990 and is a regular contributor to our weekly Insights. She has a practice in Auckland, New Zealand and also provides phone or Skype sessions for those who need assistance, but don't have a consultant in their vicinity.

Email: lindasinden@orbislife.co.nz Skype: Linda.Sinden
Mobile: +64 212237525
---
Leave a comment
The Herbs in Maharishi Ayurveda Products Are Prepared in the Traditional Ayurvedic Way. 100% Natural and Side-Effect Free. Made to Naturally Restore Balance in Your Body. Buy Now!