Protect yourself - Seasonal Reset
Author: Linda Sinden Date Posted:4 March 2020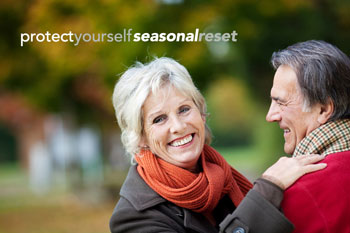 Protect yourself
Have you noticed that the sun rises later now and the sun sets earlier? This heralds the coming of Autumn and is considered in Ayurveda to be the sandhi or gap between two seasons.
This seasonal change has begun to be reflected in the pulses of people who are coming now for a seasonal pulse check in preparation for the coming of Autumn. Why? Because they have felt the benefit of a gentle seasonal cleanse or re-set in helping prevent or minimise seasonal flu, coughs and colds, especially during the change from Summer to Autumn and Autumn to Winter.
Need for a Seasonal Cleanse
The need for a seasonal cleanse is most important if one is wishing to maintain strong immunity with a healthy respiratory system and a robust digestive system. At the end of a season and as the new season starts, the impurities that have accumulated during the previous season are released into the bloodstream for removal. For example, the excess accumulation of heat, acidity, impurities from incomplete digestion and environmental toxins begin to be released into your bloodstream for cleansing at this time of the year. A seasonal cleanse works in with what nature is doing at this time and helps to remove these accumulated toxins from your system.
Seasonal Reset and Protection from Viruses
Your body is constantly identifying invading viruses or bacteria and killing them off before they have a chance to flourish. If the accumulated impurities at the end of a season are left circulating and not cleansed then the immune system can become overloaded making a person vulnerable to circulating viruses or bacterial infections. This practice of a seasonal reset helps a person to optimise their wellbeing and is true prevention. It is particularly important when we consider protecting ourselves from viruses like the Coronavirus and Flu or Influenza.
To help restore balance suggest a gentle digestive reset:
Helpful Herbals
Diet and Behaviour During your Digestive Reset
Eat 3 meals a day at regular intervals with hunger. If you're not hungry then do not eat, instead, sip your detox tea. Recipe below.
Have your main quantity of food at lunchtime and eat a light evening meal by 6 pm. Favour Pitta reducing food list for the next 2 weeks but avoid raw foods. Prefer lightly cooked vegetables and tree-ripened fruits that are best taken for morning tea.
Breakfast take stewed apple/pear cooked with 1-3 cloves and add to it either 2-3 figs or 6-8 prunes.
Sit to eat with full attention and chew well as digestion starts in the mouth.
Have a brisk 30-minute walk ideally in the morning close to sunrise.
Light food: Avoid raw food and animal protein; reduce intake of fat; take freshly cooked meals; avoid hard cheeses, sour cream, fried foods and yoghurt. If you would find it difficult to use lentils and beans or chickpeas as your main source of protein over this time then take a moderate amount of lean animal protein, seafood or fish at your lunch meal only. Avoid non-vegetarian protein sources at breakfast or in the evening meal.
Take more rest - Go to bed by 9.30 pm if possible.
To address the longer-term impact of stress practise Transcendental Meditation twice daily.
Detox Tea
Boil 2 L of water in the morning. Add:
¼ tsp of whole cumin
1/2tsp of whole coriander
½ tsp of whole fennel.
Let steep for ten minutes with the lid on. Strain out the spices and pour the water into a thermos and sip at a comfortable temperature every 30 minutes during the day. Start fresh by making a new batch of tea each morning.
Follow the Digestive Reset dietary recommendations for 7-14 days and then return to your normal diet while taking the herbs recommended until they are completed.
After Cleansing - Nourish
Complete the 30 Days Ojas Promoting Challenge at bedtime to help build immune strength and resilience (see recipe below).
Take 2 tablets of Tulsi 15-30 minutes after breakfast and evening meals to support respiratory health.
30 Days Ojas Promoting Challenge
Here is a recipe for a night tonic drink that combines key foods, spices and herbs to build and maintain your Ojas levels.
Place 1 cup of organic whole milk into a pot and slowly bring it to the boil. You may substitute with non-dairy milk, such as coconut, almond or hemp milk along with the ingredients below.
Chopped dates (1 tbsp)
Chopped almonds (2 tsp)
Coconut meat or flakes (1 tbsp)
Saffron (1/2 tsp)
Ghee (1-2 tsp) or replace with 1-2 tsp of Coconut Butter
Cardamom (1/8 tsp)
Add 1 tablet of Shatavari and 1 tablet of Ashwagandha or 1/8th of a tsp of each.
Once boiled, drink at a comfortable temperature before bed.
Wishing you the bliss of balance and a strong immune system with optimal respiratory health.
Linda and The Get Balance Team.
Linda Sinden has been a practising Maharishi Ayurveda Consultant since 1990 and is a regular contributor to our weekly Insights. She has a practice in Auckland, New Zealand and also provides phone or Skype sessions for those who need assistance, but don't have a consultant in their vicinity.

Email: lindasinden@orbislife.co.nz Skype: Linda.Sinden
Mobile: +64 212237525
---
Leave a comment
The Herbs in Maharishi Ayurveda Products Are Prepared in the Traditional Ayurvedic Way. 100% Natural and Side-Effect Free. Made to Naturally Restore Balance in Your Body. Buy Now!